Environment
Gray Hall Receives LEED Silver Certification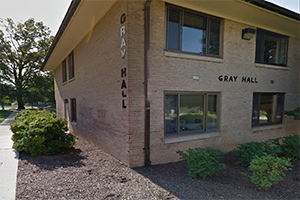 American University's Gray Hall earned the U.S. Green Building Council's Leadership in Energy & Environmental Design (LEED) Existing Buildings (EB) Silver certification recently. The EB distinction, as opposed to New Construction (NC), refers to how the building is maintained, rather than how it is designed and constructed.

Gray Hall is the third building at AU to earn LEED certification, following McKinley and School of International Service which both earned LEED NC Gold status.

To achieve EB Silver status, Gray Hall, which houses administrative and faculty offices, met a number of rigorous LEED-specified environmental and human health-related standards. The building's green features include:
LEED-approved level of air quality, the result of AU's Tobacco- and Smoke-Free Policy and other factors.
Adherence to a Green Cleaning program, whereby cleaning products used in the building – as well as throughout AU – are green and sustainable.
Water-efficient sinks and toilets.
Water-efficient landscaping practices.
Additionally, Gray Hall is more energy efficient than 82 percent of similar buildings, and uses 100 percent renewable energy through the purchase of RECs and offsets.

According to Megan Litke, director of sustainability programs, "We are thrilled to have completed our first existing building certification. This achievement is the result of about five years of work from many individuals in facilities management and the sustainability office. We monitored energy use, air quality, green cleaning, pest management, and waste management in the building to ensure that our operations practices met LEED standards. Many of these practices are in place across campus which will allow for additional buildings to be certified in the future."