Environment
Green Industry Professional Field Day Provides Opportunity for AU To Highlight Its Efforts
Sustainable ideas are shared by grounds professionals at annual meeting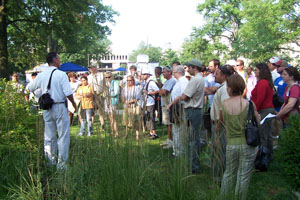 American University hosted the annual Green Industry Professional Field Day and Trade Show on July 15. This year, about 400 members of the Professional Grounds Management Society from various universities, landscape contracting firms, and green industry-related professionals from across the nation attended the event. Attendees saw the latest landscaping products and equipment; exchanged ideas, practices, and techniques in grounds management; and attended classes about the latest industry innovations and practices.
AU's Landscape Architect Michael Mastrota noted, "American University has hosted this event for several years, and it is a great means to share and learn about innovative ways to design and manage a sustainable landscape."   
Mastrota and other members of AU's Office of Sustainability, Facilities, and Arboretum departments shared with attendees the university's green innovations and achievements. Some of the university's green efforts highlighted included:   
a tour of the School of International Service (SIS) building, which is expected to receive Leadership in Energy and Environmental Design (LEED) Gold certification. The building also has been selected as a Pilot Project (one of only 175 buildings, worldwide) for the new Sustainable Sites Initiative (the program compliments LEED, and focuses entirely on site design and management). Sustainable aspects of the building include: two rain gardens, one on each far end of the building, designed to clean and slow storm water runoff to protect the Chesapeake Bay; solar panels that provide some of the building's electrical power and heat the water used in the student-run coffee shop; and rooftop gardens that reduce the "urban heat island" effect and storm water runoff;
the university's use of LED-based exterior lights that are the first of their kind in Washington, DC and are designed to be more efficient and reduce light pollution;
the university's use of permeable paving which absorbs storm water and filters pollutants; and
use of drought-tolerant plants as a means to reduce the need for supplemental watering.
Twenty different sustainability-related educational sessions also were offered including Permeable Pavers for Increased Sustainability and Trees and Carbon Sequestering.
For more information about the Green Industry Professional Field Day and American University's sustainability efforts, contact the Office of Sustainability and be sure to visit their Web site.