On Campus
Help AU Recycle Our Way To The RecycleMania Winner's Circle
Only five more weeks left in the recycling competition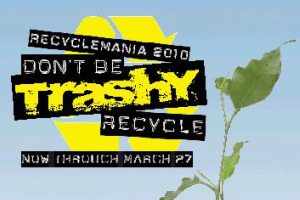 As we reach the halfway point of the annual, 10-week long, 2010 RecycleMania competition, the Office of Sustainability urges you to help push American University ahead of our competitors. Encourage your classmates and fellow staff and faculty to participate in the competition and help lower waste generated on campus by reducing, reusing, and recycling.  
RecycleMania is a friendly, international competition between more than 600 colleges and universities that serves as a benchmarking tool for recycling programs to promote waste reduction activities to their campus communities. During the 10-week period, schools report recycling and trash data which are then ranked according to who collects the largest amount of recyclables per capita, the largest amount of total recyclables, the least amount of trash per capita, or have the highest recycling rate.   
Interest in participating in the competition originated with the members of Housing & Dining Programs, and snowballed into a university-wide effort. Sophia Benedicktus of Housing & Dining said, "We're pleased that the Office of Sustainability and Facilities Management have committed to supporting our efforts to bring RecycleMania to AU. Eco-Sense – our student environmental group – and Residence Hall Association are contributing greatly to educating on-campus residents, and building energy around our sustainability programs. Participating is easy and just requires a conscious effort on all of our parts to think in a greater global context."   
"This is our inaugural year participating in RecycleMania – let's show them what we can do!" added Chris O'Brien, AU's Director of Sustainability.  
To see our weekly standings in the competition, visit the RecycleMania Web site (see QuickLinks). Remember, March 27th is the last day for AU to track recycling and garbage weights. Final results and Competition Division winners will be announced in mid-April.  
To learn more about what AU is doing to be sustainable, visit our Sustainability site (see QuickLinks).