Environment
Help Push AU To The Top Of The Heap in Recycling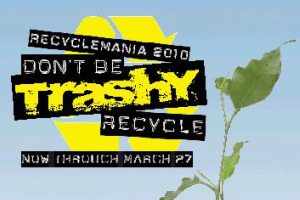 American University is in the number-three position currently in the 2010 RecycleMania competition, ahead of about 600 colleges nationwide. With just two weeks left in the national competition, a concentrated, final push by our classmates, faculty, and staff to reduce waste and recycle could push AU to the number-one position.   
"If we stay focused and just put paper, bottles, and cans in the appropriate bins, we stand an excellent chance of winning the Grand Champion title in our inaugural year of participation," enthused a hopeful Chris O'Brien, AU's director of Sustainability.  
To become Grand Champion of RecycleMania, a school must demonstrate the greatest achievement in both waste reduction and recycling. As of Week Seven in the competition, AU has a cumulative recycling rate of 63.40 percent, behind only California State University (71.12 percent) and Stetson University (63.53 percent).     
RecycleMania is a friendly, international competition between colleges and universities that serves as a benchmarking tool for recycling programs to promote waste reduction activities to their campus communities.  
To see our current standings and a week-by-week breakdown in the competition, visit the RecycleMania Web site. Remember, March 27th is the last day for AU to track recycling and garbage weights. Final results will be announced in mid-April.  
To learn more about what you can do to be more sustainable, visit our Sustainability site.