On Campus
Learn How To Help Make AU a "Smart and Sustainable" Campus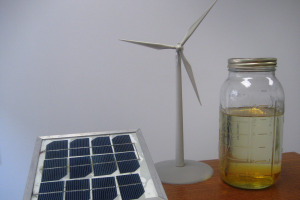 The Office of Sustainability will hold a workshop at NACUBO's Fifth Annual Smart and Sustainable Campuses Conference (March 21st – 23rd) in College Park, MD. Sustainability Director Chris O'Brien will share how American University is applying the Sustainability Tracking Assessment & Rating System (STARS) at our campuses. The theme of this year's conference is "Making the Business Case," and is geared towards experienced practitioners as well as newcomers to sustainability.  
"As a member of the STARS Steering Committee, I encourage everyone to view themselves as stewards of our university. I also invite anyone in the AU community who's interested in learning ways to promote and practice sustainability to attend the conference," said O'Brien.   
The conference will concentrate on innovative and creative strategies to help meet the challenge of modeling new and more sustainable ways of living and operating. Numerous sessions, workshops, and speakers, including U.S. Secretary of Energy Steven Chu who will deliver the keynote, will also be featured.     
Some of the topics to be covered at the conference include:
Strategies for making sustainability projects feasible
Application of new STARS sustainability system for your institution
Specific examples of proven solutions in energy management, transportation, food and dining, and more
Best practices from peer campuses on a variety of operational issues
Mechanisms for financing sustainability projects on campus
How to channel student enthusiasm to accomplish institution-wide sustainability goals
Attendees of the conference may also be eligible for up to 14 NACUBO Continuing Professional Education (CPE) credits.
For more information, visit the Smart and Sustainable Campuses Conference Web site (see QuickLinks).