Achievements
AU Named One of the Collaborative Winners of "Leveraging Excellence Award"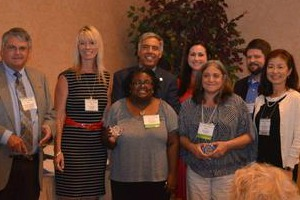 American University was recognized by the National Consortium for Continuous Improvement in Higher Education (NCCI) with a 2012 Leveraging Excellence Award. The award recognizes best practices that have broad impact within the higher education community. AU's recognition comes as a result of our collaborative participation with six other institutions of higher education in the National Association of College and University Business Officers (NACUBO) Challenge 2010 Project, an initiative to implement Rutgers University's Excellence in Higher Education (EHE) model and document its impact.
Dr. Brent Ruben, Director of Rutgers University's Center for Organizational Development and Leadership and developer of the EHE framework says, "The Challenge 2010 institutions such as AU exemplified many of the benefits that can result from an EHE assessment, and receiving NCCI's acknowledgement of EHE's potential impact on higher education was highly rewarding."
For its part, AU established a steering group comprising representatives from across the university who participated in a pilot project called "Achieving a High Performing Organization in Budget and Financial Management."
The project's objective was to assess and improve the university's budget and financial management processes. An assessment based on the EHE model resulted in the identification of a wide range of projects that are being implemented through a multi-phase approach by the four sub-groups listed below.  
To date, the project has resulted in a number of significant achievements in the university's various functions including:
Budget and Financial Management Skills Training 

Launch of Fiscal Management Basics (FMB) pilot training program 

Core Services Expectations

Evaluation of current charge-back process 
Definition of core service delivery and procedures
Implementation of point-of-service survey

Technology and Digital Literacy 

Survey on financial reporting usage and need was conducted
Inventory of financial reports was compiled
New online tutorial for highly-used Datatel report was launched 

Cross-Divisional Collaborations

Series of meetings to enhance communication across divisions was held
Improving faculty/staff workplace was identified as a priority initiative
The steering group also considered exemplary practices, and adopted best practices that could be presented to, and potentially applied by, other institutions. The outcomes were shared through presentations and national publications. In addition to the award recognition that AU received for participation in the project, the university also was able to support and advance our Strategic Plan Goal #9: Encourage Innovation and High Performance.
"Effective collaboration was essential to this initiative, and in the progress we've made to date to improve AU's budget and finance processes. I am confident that the bridges we have built through this work will result not only in continued improvement in budget and finance, but throughout the institution," says Nana An, assistant vice president of university budget and finance resource center.