On Campus
Lose Your Parking Woes, "Pay by Phone & Go"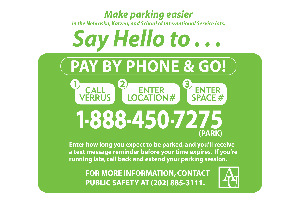 Commuters to American University no longer have to worry about how much time they have left on their "Pay As You Go" meters or if they've got a parking ticket waiting for them for running late. Beginning Tuesday, July 6, Public Safety will offer Pay By Phone & Go service to commuters who park on the Nebraska lot or in the Katzen or School of International Service garages.
To use Pay By Phone & Go when you park your car in one of the lots:
Dial 1.888.450.PARK (7275)
Enter your location number (posted on nearby signs and parking meters)
Enter your parking space number
Enter how long you expect to be parked
You'll receive a text message reminder before your time expires. If you're running late, you'll have the option to call back and extend your parking session. 
If you're a first-time user of Pay By Phone & Go, set up your free account by signing up online or calling 1.888.450.PARK (7275). You'll need to provide your mobile phone number and credit card (Visa, MasterCard) information. Then, whenever you use Pay By Phone & Go, your details will be recognized automatically. All information is kept confidential and secure. Your credit card account information is encrypted when you sign up and is never entered, displayed, or spoken during future transactions. 
Whenever you use Pay By Phone & Go, regular parking charges apply, plus a 35-cent convenience fee assessed by Verrus, the mobile payment company. Your payment is processed in real-time, although the amount of time that elapses before your charge shows up on your account will vary depending on your credit card company's processing system. You can view all your transactions by logging into your account online. You also may print receipts online for all your parking fees.
For more information, contact Public Safety at (202) 885-3111.