Environment
AU Receives Second 'LEED Gold' Distinction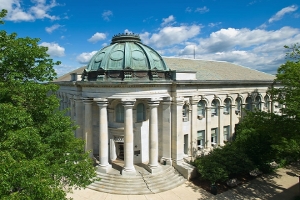 American University can count McKinley as another U.S. Green Building Council's Leadership in Energy & Environmental Design (LEED) Gold-certified building. It is the second new construction on AU's campus to receive the coveted distinction. The first building to receive the LEED Gold certification was the School of International Service in 2011.

According to Director of Sustainability Programs Megan Litke, "Washington D.C. has more LEED-certified square footage per person than any state in the country, and we at American University are excited to contribute to making the Capitol City the greenest in the nation. The McKinley Building has many features that embody what a green building is and we are excited to use it as an educational resource on campus."

To achieve Gold status, the McKinley Building, which houses the School of Communication (SOC), met a number of rigorous LEED-specified environmental and human health-related standards. The building's green features include:

Green roofs (viewable from the third floor);
Water-efficient landscaping that features native and adaptive species;
A location that is walking distance from numerous community resources including a bank, pharmacy, church, convenience store, and restaurants;
Easy access to the MetroBus and the AU shuttle to the Tenleytown Metro-station;
Toilets and sinks that are low-flow, water-saving fixtures;
Energy efficient design that uses 22 percent less energy than a traditionally-built building;
The purchase by AU of 100 percent renewable energy credits;
Lighting level controls at work stations and shared spaces; and
Usage of a green cleaning plan.
The LEED certification comes as a result of AU's concerted effort to adhere to the university's Green Building Policy which states that all construction implemented on campus must meet or exceed LEED Gold status. To meet that self-imposed standard, AU followed strict green practices whereby nearly 30 percent of building materials, by cost, contained recycled content; 26 percent of the building materials were local, and manufactured and extracted within 500 miles of the building site; all adhesives, sealants, carpeting, and paint used contained low or no levels of volatile organic compounds (VOC); and more than 96 percent of construction waste was recycled.

School of Communication Dean Jeff Rutenbeck said, "At the School of Communication we seek to instill a forward-thinking, entrepreneurial spirit in our research, teaching, and creative work, and the LEED Gold designation celebrates those sensibilities. We are grateful to both the university as well as the donors and partners who have made this possible."