On Campus
Neither snow nor cold nor gloom of night…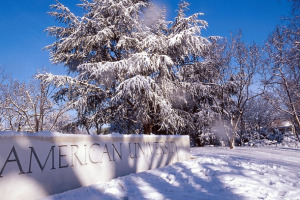 New York may be the "city that never sleeps," but the back-to-back snowstorms of the past week proved that the Office of Finance & Treasurer's Facilities, Public Safety, and Office of Information Technology teams are comprised of a "staff that never sleeps."
According to Assistant Vice President of Facilities & Administrative Services Jorge Abud, "The focus of the Facilities staff throughout the two snowstorms was to keep our campus safe and comfortable for campus residents and others within walking distance of AU."
Here are some of behind-the-scenes challenges, facts, and figures that the Facilities staff had to contend with while battling the snowstorms:
The staff worked around the clock, staying on campus for several days straight.
For each storm, a crew of about 40 staff members was responsible for clearing snow from sidewalks and roads, along with the help of contractors.
On several occasions, the staff removed snow from public streets in order to reach off-campus AU facilities.
Central Plant staff ensured that heat was available in all buildings and answered calls for service.
Throughout both storms, a staff of 70 dedicated individuals from our housekeeping and food services partners, Aramark and Bon Appetit, was a key ingredient to keeping services available for students.
A 46-strong Public Safety staff was on hand to help address any unforeseen conditions on campus and answer telephone calls.
Roofs on all AU buildings were monitored frequently to ensure that drains were clear to allow snow and rain to flow freely.
Use of technology and online services such as VPN, Internet, and e-mail saw a significant increase, as students, staff, and faculty worked from home.
The Office of Information Technology team's help desk, technical support, and management, worked the 24/7 Network Operations Center both on campus and at home virtually throughout the storm.
On Super Bowl Sunday, thousands of students faced the prospect of missing the big game, as snow-cached satellite dishes caused cable television service to go down just before kick-off time. Luckily, the fast-reacting Facilities team removed the snow of the dishes in a nick of time.
The blizzards were not without some minor damage to university facilities. As a result of the weight of snow accumulation and high winds, a portion of the canopy on the Mary Graydon Bridge collapsed on Wednesday, February 10. As the collapse occurred during the height of the storm when no one was using the walkway, there were no injuries to pedestrians. In the coming days, the Facilities staff will assess the damage and plan for repair.
Abud commented, "Going into the two storms, I was confident we would weather them successfully because we had planned and prepared. It's always good to look back and see that my confidence in our staff was well founded."