Sustainability Success Story
AU Earns "Tree Campus USA Status"…Again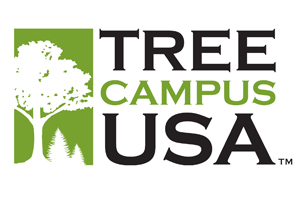 American University was named a Tree Campus USA University for the second year in a row by the Arbor Day Foundation.  The recognition comes as a result of AU's dedication to campus forestry management and environmental stewardship.
One of the Tree Campus USA program's goals is to help create healthier communities through the planting of trees.  Chief Executive and founder of the Arbor Day Foundation, John Rosenow noted, "By encouraging its students to plant trees and participate in service that will help the environment, American University is making a positive impact on its community that will last for decades."
AU Landscape Architect Michael Mastrota said, "We're proud to be recognized as a Tree Campus USA University by the Arbor Day Foundation.  To be named two years in a row makes it especially special.  Trees are a very important part of our campus and our community.  The Tree Campus USA program helps us celebrate our love of trees, but more importantly, it allows us to help educate the community on the values of trees and their contribution to sustainable living."
To achieve the Tree Campus USA University status, AU met the following five core standards of tree care and community engagement:
establish a campus tree advisory committee;
evidence of a campus tree-care plan;
verification of dedicated annual expenditures on the campus tree-care plan;
involvement in an Arbor Day observance; and
the institution of a service-learning project aimed at engaging the student body.
For more information about AU's landscape and grounds which are a designated arboretum, visit the Arboretum and Gardens Web page.
The Arbor Day Foundation is a nonprofit conservation organization with more than 1 million members, with a mission to inspire people to plant, nurture, and celebrate trees. The Tree Campus USA program, established in 2008, is supported by a grant from Toyota.  For more information, visit the Arbor Day Foundation's Tree Campus USA Web site.