On Campus
2011 Campus Plan Brings More Students Back On Campus
Proposal calls for housing to accommodate current and projected needs for the next decade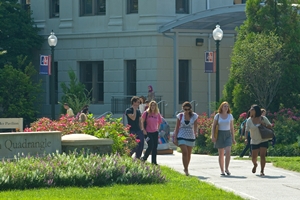 An overarching theme of American University's developing 2011 Campus Plan is to bring more of our undergraduate students back to live on campus. The latest draft of the plan, which was unveiled in May at a monthly meeting with community representatives, focuses on building student housing to meet AU's current and projected needs for the next decade, providing a stronger on-campus experience, while also incorporating the new residence halls aesthetically into our existing campus and community.

The proposed housing plan is based on the university's goal in the strategic plan to enhance the undergraduate student experience by accommodating existing students and anticipated demand during the next ten years with high quality housing options, while also complying with a current city requirement that AU house a certain percentage (currently, two-thirds) of all full-time undergraduates on campus.

The plan proposes housing for 4,900 undergraduates by 2020. Currently, AU houses approximately 4,000 undergraduates. This includes 3,800 students who live in campus housing (including 345 freshmen who live three to a room in spaces designed for two) and 200 students who reside in university-leased, off-campus housing. The projected increase of students living on campus during the next decade comprises the anticipated return of about 750 students now living independently off campus and an enrollment growth of 150 new undergraduates.

In addition to providing on-campus housing for the approximately 900 students, the university will need to build housing to accommodate:
•  345 beds for freshmen who now live tripled in rooms designed for two;
•  500 beds for students who now reside on Tenley campus where dorms will be demolished;
•  116 beds for students in the Roper and Clark buildings which will be demolished; and  
•  200 beds for students who now reside in university-leased apartments at the Berkshire.

To accommodate the housing needs, the latest draft of the 2011 Campus Plan proposes to build:
•  East Campus (currently Nebraska parking lot) – a new quad of four residence halls;
•  Nebraska Hall expansion;
•  South Campus (directly south and adjacent to Letts-Anderson buildings) –three residence halls; and
•  Clark site (directly east and adjacent to Letts-Anderson buildings) –two residence halls.

AU recently completed a comprehensive Strategic Plan for the future, and the Campus Plan will support the university's larger strategic objectives. All proposed buildings also will be in accordance with the university's Green Building Policy, as construction will follow our commitment to using sustainable, green development principles.

AU, like all universities in the District of Columbia, is required to submit a new Campus Plan every ten years. The 2011 Campus Plan is essentially a facilities plan, which by law must cover any and all building that may take place during the next ten years, and must be approved by the DC Zoning Commission. The 2011 plan is being designed to provide facilities that match our commitment to being a university of distinction; make better use of the current campus land to build for the future; and employ green development strategies.

Preparation and submission of a campus plan is an evolving process. Deliberations regarding key elements of the plan will continue during the summer, both within the administration as well as in consultation with all of our stakeholders. Elements of the plan are subject to adjustment until these deliberations are complete and we draft the final plan.

All materials regarding the development of the 2011 Campus Plan and from the task force meetings are available to the public on the Campus Plan Web site. When completed, the plan will be submitted to the DC Zoning Commission, most likely sometime this fall. Following a thorough review and hearings by the Zoning Commission, the newly approved Campus Plan would go into effect next year.