On Campus
What is Campus Life Reading This Summer?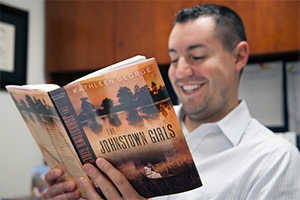 With a quiet campus and summer vacations in full swing, many Campus Life staff members are hitting the books. From brain candy reads to historical epics, take a look at what fellow staffers are enjoying this summer!
Amanda Harrison, Accommodations Coordinator, Academic Support & Access Center
I'm currently reading The Curious Incident of the Dog in the Night-Time by Mark Haddon. I saw it recommended on a disability-related reads list online. I'm always reading disability-related stuff. It gives you a fairly good perspective on autism, as it's told from the perspective of a teenager with autism.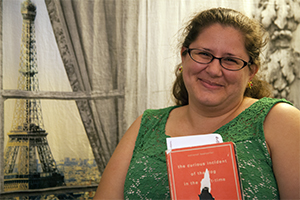 It provides some insight into what it might be like to be somebody with autism, and what it's like to be in the world with that. It's interesting because we have an increasing population of those students on campus who are not much older than this character.
I'm trolling for recommendations on what to read next. I have an embarrassing love of young adult literature. In the summer, it's like brain candy. I read a lot of it. That's what the summer is for, brain candy reading.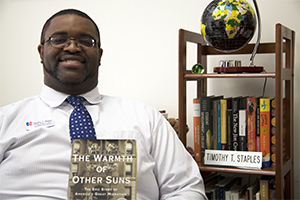 Tim Staples, Assistant Director for Training and Leadership Development Programs, Housing & Dining Programs
I am currently reading The Warmth of Other Suns: The Epic Story of America's Great Migration by Isabel Wilkerson. I had the opportunity to purchase this book at a conference almost three years ago, and it has sat on my shelf since that time. Listening to my mother, who is now 70 years of age, and my aunt talking about their childhood on Buford Plantation in Mississippi really caused me to pick up the book and begin reading. Growing up I would always hear my mother and father talk about their time in the segregated, Jim Crow South.
One of the most interesting conversations I recently revisited with my mother centered on the family's decision to migrate north to St. Louis. This conversation also included information about the 1955 murder of Emmett Till [nearby in Mississippi]. I learned that my grandfather worked at Tutwiller Funeral Home, where Emmett Till's body was prepared to be sent to Chicago. It was at that moment my grandfather decided that it would be best to move his family to St. Louis for their safety.
I plan to read the 1945 book A Street in Bronzeville by Gwendolyn Brooks next to participate in the Books that Shaped America program sponsored by the AU Library.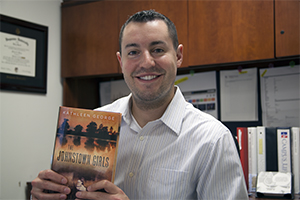 Michael Wargo, Technology Coordinator, Office of the Vice President
I'm currently reading a book called The Johnstown Girls. It's historic fiction, which is one of my favorite genres. It's about these twin girls who were separated during the Johnstown Flood in 1889. One hundred years later, one of the girls reveals she had a twin that she lost during the flood, but the reader knows her sister is still alive. I haven't finished it yet, but my guess is the two sisters will reunite at the end. 
I'm enjoying the book because a local Pennsylvanian author wrote it. It chronicles the story of the flood, which I find fascinating, and it also throws in local Johnstown landmarks. For anyone from the area, I would definitely recommend it. Even if you aren't from western PA, it's a good read. 
I actually received this book as an Easter gift from my mom. She went to a local book signing by the author and knew I was interested in the Johnstown Flood. She got it signed for me as a gift. So, the book means a little more to me in that respect. 
I plan to read one of the following books next: The Leftovers by Tom Perrotta, The Stand by Stephen King, or The Walking Dead: Rise of the Governor by Robert Kirkman.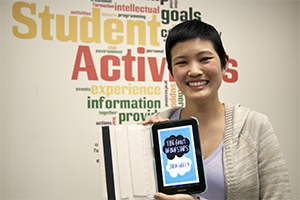 Virginia Do, Assistant to the Senior Director, University Center & Student Activities
I like to keep my summer reading light. So, what better to read than a young adult novel? I am currently reading The Fault in Our Stars by John Green, which is about Hazel, a 16-year-old cancer patient, and her friends from support group. They live by the mantra "living our best life today," which includes traveling to Europe, receiving chemotherapy treatments, and falling in love. What first drew me to TFIOS is I like to read books before they are released as movies so that I can see the movie come to life, and—hopefully—the filmmakers have the same picture as I had while I read.  
Of course, when you are talking about someone with cancer, there will be some inevitable tears somewhere in the story; so, be careful if you read this on the bus or next to a public pool. If you like a good tearjerker with lots of emotion, then you'll enjoy this quick read. The next step will be to rent this when it comes out on DVD so that I can save myself the indignity of crying in a movie theater full of teens.