On Campus
Former White House Florist
Helps Arboretum Shine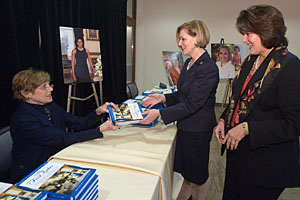 When most people think of White House Christmases or state dinners, thoughts stray to meticulous design, lavish centerpieces, and ornate floral arrangements. For 30 years, Nancy Clarke was the woman behind the scenes, making it all happen.
At the fourth annual arboretum luncheon on October 13, Clarke signed copies of her new book, My First Ladies, for an audience of Friends of the Arboretum, shared details of working intimately with six first ladies. There was the buffalo barbeque for the Carters' Japan state dinner; hosting Princess Diana, Prince Charles, and later, Margaret Thatcher during the Reagan administration. Barbara Bush's frequent direction, when her husband invited last-minute guests to the White House: "Don't buy anything special." There were Hillary Clinton's elaborate outdoor parties; Jenna Bush's Texas wedding where the cake was in perpetual melt; and Michelle Obama, who loves contemporary styles but still requires that her girls make their own beds.
The luncheon, complete with first lady themed tables and a first course garnished with edible flowers, served as a thank you for supporters of the AU Arboretum, which will celebrate its tenth anniversary next year. Those who missed the event or want to learn how to make arrangements like a White House pro are invited to a spring event, during which Clarke will share the tricks of her trade.