Business
Kogod Network Brings Building Connections to the Real World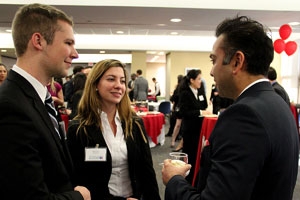 At Kogod's largest networking event of the year, a sense of community—and a lot of business cards—were takeaways. Students, alumni, and recruiters came together for a day of mock interviews and an evening of exchanging ideas and opportunities.
"Kogod's sense of place and strong community is what makes us stand out among other area schools," said Arlene Hill, director of the Kogod Center for Career Development.
Network Expansion
A color-coded system helped the more than 230 networkers find their way through the crowds to seek out others in their preferred industry. From finance to marketing, alumni and professional recruiters represented nearly a dozen specialties.
"Having such a great representation of our Kogod alumni from so many diverse industries here tonight truly reflects one of our school's greatest strengths," he told the crowd. "You all showcase our ability to shine."
As a graduate of Kogod's inaugural class, Jonah Gitlitz, BS in Economics '55, has watched the school grow and change over the past half-century.
"Everything has grown: the school ranking, the quality of the students, the reputation," he said. "Most impressive are the students. I love coming to these events and seeing how open-minded and interested these young people are."
Gitlitz retired as CEO of the Direct Marketing Association in 1996.
Making Connections
Handshakes and business cards abounded as attendees moved through the packed room.
"Events like this are so helpful to see what's out there, job-wise," said Kate Knorr, MBA/MA '14. "It's easy to search for jobs online, but actually meeting potential employers and talking with alumni really helps sift through all the noise."
For many alumni, networking events are one way they can give back to the community that helped them.
"These events are so important to attend, whether you're a student or an alum," said Zaid Sultan, MBA '09. "It really strengthens the Kogod brand and that benefits us all."
Nancy Geofroy, MBA '06, remembers all the doors Kogod opened to her, especially as an international student, and enjoys reciprocating.
"It can be difficult for international students to adjust to the U.S. and to get a job after graduation," she said. "If I can draw on my experiences in international business and pass that on to students, then I'm more than happy to help."