On Campus
Student Media's Professional Edge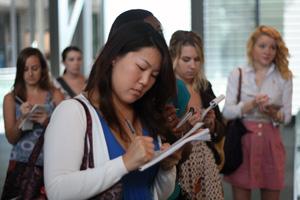 Current Events

With a stellar School of Communication as well as award-winning student media organizations on campus, few universities can compete with what AU offers its budding journalists and media professionals.

Those student media groups – ranging from The Eagle newspaper, AmLit, and The Talon yearbook to ATV, AmWord news magazine, WVAU radio, and AWOL magazine – provide opportunities for students to hone their crafts in an academic and professional environment. Aside from the experience, Student Media also connects its students with internships, job opportunities and beyond.

Just recently, Student Media – advised by veteran journalist and assistant director of Student Activities for Student Media Adell Crowe – held its first College Editors Summit. The event welcomed student news editors from five Virginia and Maryland universities to network and hear from professionals at The Washington Post, Inside Higher Ed., and the Student Press Law Center.

Crowe saw the Summit as a great opportunity for the some 40 students who attended.

"The whole idea behind [it] was to get them training and help them network with other students from around the area," she says. "Even though there are a lot of student journalists, there's not a lot networking among them."

Student Media and the School of Communication (SOC) followed up the Summit with a forum, moderated by SOC associate dean of Academic Affairs Rose Ann Robertson, to address the question "What is the Role of Student Media?" SOC professors Amy Eisman and John Watson, along with former Eagle editor Brett Zonker '03 – now at the Associated Press – and Frank LoMonte of the Student Press Law Center, engaged in an in-depth discussion on the topic.

The panel praised The Eagle for its integrity and quality work, which has consistently displayed the students' commitment to pursuing excellence in journalism.

Awards/Rewards

Aside from arranging networking functions and presentations by working professionals, Crowe – since taking her post last year – has endeavored to increase the visibility and prominence of her students' consistently strong work. The fruits of her labors have landed both The Eagle and AU's undergraduate literary journal, AmLit, as finalists for the Associated Collegiate Press's Pacemaker Contest.

"We were doing a lot of good work here that hasn't been nationally recognized. So, one of the things I did early on was create a database of all the contests out there and started making sure our stuff was entered," she explains. "I'm really proud to say The Eagle and AmLit are finalists in what I consider the highest journalism award for college journalists."

The winners will be announced at the National College Media Convention at the end of this month. A 30-year veteran journalist with a 21-year tenure at USA Today as its training and ethics director and assistant to the top editor, Crowe herself will lead two sessions at the convention covering ethics and errors in newspapers.

These recent recognitions extend beyond print media to the campus's student television network, ATV. The group is up for two Pinnacle College Broadcast & Web Tech Awards, but they have more presidential goals in mind. ATV is currently in the process of becoming one of the only student television networks credentialed to attend White House press briefings.

Media Wonks

Crowe believes her groups' successes have come from the type of students the university attracts, not to mention the obvious career advantages that AU Student Media offers.

"We draw the kind of student that likes to be involved, and certainly our communication program draws some excellent students," Crowe says. "People who graduate from The Eagle have gotten tremendous jobs. They're at the Post, USA Today, and the AP."

Students need not even graduate to get professional experience, as many students intern with places like The Washington Post, where one student writer recently had a story featured on page 2 of the paper's daily Express.

With so many accomplishments in Student Media groups as of late, Crowe looks toward the future writers, designers, production workers, anchors, and radio hosts who will join and continue the quality media coverage on campus.

"When we're recruiting students for these organizations, we tell them, 'Yeah, you can get an internship, but you can also go to an employer and show them you've been part of something that's an award-winning enterprise,'" she says.

Considering all that AU's Student Media has going for it, it's safe to say the organizations' achievements speak for themselves.