Environment
Paper Towels Now Composted as a Part of AU's Zero Waste Policy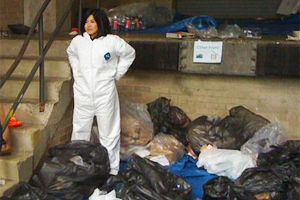 As part of its Zero Waste Policy, American University now composts paper towels from bathrooms all over campus.  The move will divert paper waste from landfills and instead turn it into compost, a useful, organic material that can be used as a solid amendment or as a medium to grow plants.
AU also composts coffee grounds from The Davenport lounge as well as all pre- and post-consumer food waste from the Terrace Dining Room.  About 16 tons of compostable material per week are diverted from landfills and taken to Recycled Green, a composting facility in Maryland.
Biodegradable green bags have been installed in paper towel receptacles in bathrooms throughout the campus. Director of Sustainability Chris O'Brien explained, "Not only are we composting the paper towels themselves, but the new green colored can liners are also bio-based, which means these bags get composted too."
Proper disposal procedure to avoid waste contamination and maximize composting includes disposing of all waste in designated bins.  All non-paper towel or sanitary trash should be carried out of restrooms and placed in nearby trash cans. All glass, metal, and paper waste should be recycled.
The most detrimental contaminant is glass which, when broken, cannot be sorted out of the organic compost mix and can ruin an entire batch of valuable compost. Take particular care to recycle all glass waste appropriately so glass does not end up in paper towel bins.
The university's new composting practices resulted from a waste audit that was conducted last fall by the student Green Eagles.  The audit, conducted during a 24-hour period from the Letts and Centennial Hall waste collection areas, studied and measured the sorts of waste the university produces in order to make better, smarter plans for reducing, reusing, and recycling it. 
The audit found that in just one day from the south-side residence halls:
1,135.50 pounds of waste was produced.

"Tissue paper," a category including paper towels, tissues, and napkins, constituted 13.3 percent – 150 pounds – of the total waste from the residence halls.
Tissue paper largely was sorted and isolated already in the form of paper towel waste coming out of bathrooms, setting in motion the plan to compost paper towel waste.
The stated purpose of AU's Zero Waste Policy "is to protect and restore our environment by managing material flows through the university and manage waste/recycling processes that: improve energy, water, and material efficiency; utilize renewable materials; enable the University to attain carbon-neutrality or net positive renewable energy production; eliminate waste, especially hazardous materials; enhance the physical campus environment; and protect and enhance the health of the University community."
For more information on how you can help to achieve the university's waste policy goals, visit Sustainability's Recycling, Composting, & Waste site.