In the Community
AU Students Thrive in Local D.C. Politics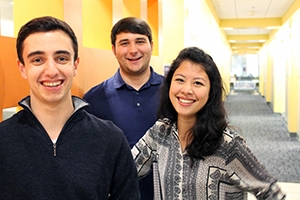 Students, neighborhood residents, and anticipation crowded the July Advisory Neighborhood Commission meeting. American University student and ANC 3D commissioner Joe Wisniewski sat on the board, waiting. Like everyone, he was eager to hear the final votes on adding a bike lane to New Mexico Avenue—something he and other members had campaigned for.

Finally, the votes came through: Approved. Wisniewski, a senior in the School of Public Affairs, was thrilled.

"The second we were done with the vote—we were halfway through the agenda—and everyone left," he said. "I'm trying to find those issues that make people care about the ANC. I had people telling me it was the first time they cared about a vote. They cheered and got really excited about it."

Wisniewski is one of three AU students who work on ANCs, local government committees that each represent some 20,000 Washington, D.C., constituents on issues ranging from zoning and economic development to recreation.

SPA junior Rory Slatko and School of International Service senior Kathryn Tinker represent AU residence halls in ANC 3E and Tenleytown in ANC 3D, respectively. Tinker filled a vacant ANC seat this summer, and Slatko and Wisniewski were elected in November 2012.

For Slatko, the position has had its challenges, and that's why he's enjoyed it so much.

"I appreciate the opportunity to see that level of government up close. I've certainly been able to get a better sense of our community and this corner of D.C.," he said. "This is the smartest section of the smartest city in the world. There are a lot of neighbors that are fantastic people."

Both Wisniewski and Slatko are majoring in political science, pairing their studies nicely with their real-world responsibilities.

Wisniewski recalls the days leading up to the bike lane vote and how they tied in perfectly with his course work.

"ANC is a wonderful way to take what I'm learning in class and really look at it from the real world perspective," he said. "I was in an interest group politics class, and we were talking about people lobbying their elected officials. … I started getting calls and emails, experiencing outside lobbying myself."

Similarly, Tinker, formerly the president of AU College Democrats, found her extracurriculars with the student group informing her extra-extracurriculars on the commission.  

"What I've learned from being involved in College Democrats and on-campus student leadership activities has really prepared me for the ANC," she said. "It is a very different environment, but at the end of the day it's about working with people and understanding how to get people working together for something that you hope benefits the larger community."

With AU consistently ranked among the nation's top five most politically active colleges by Princeton Review, it's no wonder these students have been able to take their experiences on campus into Washington's local political sphere.

Slatko—a former Student Government senator—is lobbying for other students to take up the mantel after he finishes his two-year term. Aside from forming a campus organization to promote student engagement with the ANCs, he's also coordinating with the mayor's office to create a task force for students in higher education.

"It aligns well with the campus," he said of the work. "Beyond the ANC, the fact that it's all local government here is its own opportunity."

But it's not all about bringing students to the commissions; for Wisniewski, it's about promoting relationships that bring neighborhood residents and the university together. Just recently, he arranged an AU a cappella group performance in the lobby of a nearby apartment building, and it was a hit.

"We're trying our best to let residents know that AU students really do get involved in their community," he said, mentioning food drives at neighboring Metropolitan Memorial United Methodist Church. "We're really trying to [show] all that AU students have to offer."

Wisniewski, Slatko, and Tinker hope to make meaningful change during their terms with the ANCs. Whether through development or traffic issues, they're on the right track after the excitement of the bike lane effort.

None of the three imagined holding these official positions when they first arrived at AU, and in the end, that might be the best part.

"I've found it's the opportunities that I didn't see coming that I've appreciated the most," Slatko said.