Environment
AU Goes Green, Goes Dark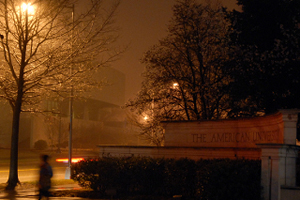 AU's Ward Circle Building, home to the School of Public Affairs, was among more than 100 buildings across the District that went dark Mar. 28, in honor of Earth Hour. The lights along Massachusetts Avenue and the Katzen Arts Centers' exterior lighting were also turned off at 8:30 p.m., as part of a global effort to fight global warming.

The World Wildlife Fund started Earth Hour in 2007 in Sydney, Australia. More than 2,100 cities around the world participated this year.

The National Cathedral, National Press Club, Brookings Institution, and National Geographic were among the other D.C. institutions that dimmed the lights as part of the green initiative.