Technology
Breaking Games out of the Living Room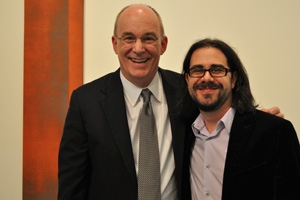 The realm of gaming is no longer restricted to your living room television set. That's why Ian Bogost, professor of interactive computing and media studies at the Georgia Institute of Technology, is trying to make gaming more common in areas outside of entertainment, like public policy and education.
"I'm trying to end the hype and lead to the normalcy of games," he said at a talk in the American University Museum on October 17.
Bogost spoke specifically about persuasive gaming—games that deliver messages and simulate experiences. One example he used was Fatworld, a video game he created that looks at obesity, nutrition, and socioeconomic factors. Players design their characters, including their weight, choose what environment they live in, and change public policies in regards to food. (Bogost said his daughter likes to ban broccoli.)
"This is the kind of game I love the idea of," he said. "It's a game that embraces the complexity of a sociopolitical issue and attempts to characterize it."
Bogost said in the past games haven't been used as tools, but more as art. Changing how people think of gaming is difficult, he added.
"We can't just snap our fingers and change the media environment," he said.
Games have long been associated with news, and according to Bogost, the ritual of doing the crossword puzzle and reading cartoons was an incentive to get the newspaper. But with the decline of newspapers, that connection is fading away.
"The point of entry has been lost and it's not being reinvented online," Bogost said.
One of the problems, he noted, is that games have to be created quickly and with some knowledge of game design. Some sites, like Game-O-Matic, are emerging to allow easy creation of games. Bogost compared these sites to a person with little knowledge of photography being able to easily create a photo with a point-and-shoot camera.
Bogost said the future of persuasive gaming lies in asking what purposes games can be used for, which changes the focus from the medium—games—to the content and what the games can achieve.
After the lecture, College of Arts and Sciences dean Peter Starr, who directed Bogost's honors thesis at the University of Southern California, said he was not surprised by the complexity of Bogost's talk.
"He was one of the students who took graduate-level classes as an undergrad," Starr said. "He was always thinking about 16 things at once."