On Campus
'Gay Gene' Scientist at McCabe Lecture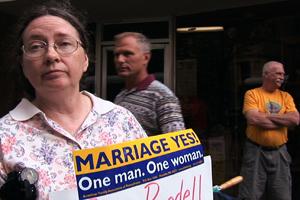 When Andrew Merluzzi was looking for a renowned scientist to speak at American University, Dean Hamer was a shoo-in.
The scientist, filmmaker, and gay rights activist will be at the Bishop McCabe Lecture Series November 8, speaking about his research with sexual orientation and genetics. Out in the Silence, a documentary Hamer produced with his partner, Joe Wilson, will also be shown.
"I thought his research would have a good appeal for the community," Merluzzi, a senior in AU's College of Arts and Sciences, said. "His research is on hot topics that are controversial." Merluzzi contacted Hamer, who said he would love to come and give a talk.
Hamer's discovery of the "gay gene" started a national debate. He and his colleagues said they found an unidentified gene on the X chromosome that determines who develops the trait. Hamer's book on the discovery, The Science of Desire: The Search for the Gay Gene and the Biology of Behavior, was a New York Times Book of the Year.
"It's good scientific research that's important for people to learn about," Merluzzi said.
Hamer earned his bachelor degree from Trinity College and his doctorate from Harvard Medical School. He was the chief of gene structure and regulation at the National Institutes of Health for 34 years. There he focused on treatments for HIV and AIDS.
When not doing scientific research, Hamer works with Wilson on documentaries about ignored social issues. Their partnership, Qwaves, has produced a variety of short films, including Boy in a Dress, The Preacher & the Poet, and Thorn In Your Side.
Hamer and Wilson's documentary that will be shown following Hamer's talk, Out in the Silence, has won awards from the International Film Festivals, the Nashville Film Festival, and the South Dakota Film Festival. It tells the story of how the announcement of Wilson and Hamer's marriage in Wilson's hometown of Oil City, Pennsylvania, garners a negative reaction from the town while catching the attention of a woman with a gay teenage son. Wilson and Hamer talk with school authorities, local politicians, and traditional value activists as they try to show that all people can get along. The film also highlights how gay people struggle in rural American communities, where some people are less accepting.
Hamer and Wilson are currently working on a documentary film in Hawaii that looks at balancing traditional Pacific Islander culture with modern-day society.
The lecture will be Thursday, November 8, from 7 to 9 p.m. in the AU Museum at the Katzen Arts Center. For more information, go to the Bishop C.C. McCabe Lecture Series website.