On Campus
Exploring Intersections of Our Identities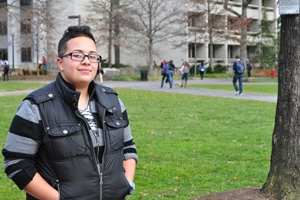 Everything comes together for Salina Rivera, CAS '13. When it comes to personal identity and diversity, the Bronx native sees intersections where others see walls of separation.
"There are many different parts of each person's identity," says Rivera, who is majoring in women's, gender, and sexuality studies. "It's important that we look at how these identities influence each other and what they mean to each individual."
Rivera, who transferred to AU after two years at SUNY–Albany, knows there is more to individuals than the one or two identities that may be most visible to others. "When people begin to look at the multiple parts of who they are, they can start to see what makes them unique, while at the same time belonging to multiple groups," she says.
After coming to AU, Rivera immediately immersed herself in the College's WGSS program. After taking LGBT Lives, a course taught by Matt Bruno, coordinator of LGBTQ (Lesbian, Gay, Bisexual, Transgender, and Queer) Programming at AU's Center for Diversity and Inclusion, Rivera knew she had to get involved with LGBTQ programming on campus. And she did, landing a job with the Center for Diversity and Inclusion.
As the GLBTA Resource Center merged with the Office of Multicultural Affairs and the Women's Resource Center to create CDI, Rivera became increasingly interested in how the elements of diversity fit together. With the resources now housed in one office, Rivera believes it just makes sense to find the connections between these identities. "I identify as a female. I identify as Latina. I identify as a lesbian. And those are all parts of who I am. You can't just separate them and put them in boxes," she says.
Working with a variety of campus partners, including United Methodist Chaplain Mark Schaefer, Rivera has worked to create CDI's Intersections program, designed to highlight the intersections of various identities. During American Indian Heritage Month in November, Rivera partnered with Schaefer, who runs an annual Alternative Break trip to American Indian reservations, to facilitate a discussion on race in Native American communities. She also partnered with the Disability Rights Coalition to educate students about disability identity in American Indian communities and in a variety of cultures.
Rivera hopes to help others see the importance of this intersectionality this spring as she co-leads an Alternative Break trip to Puerto Rico focused on women's sexual health issues, particularly the legacy of forced sterilization that still casts a shadow over many Puerto Rican women.
"In order to control the unemployment rate in Puerto Rico, the government tried to institute sterilization to curb the population," says Rivera, whose grandparents are from Puerto Rico. "While it wasn't officially compulsory, in order to get a job women had to show proof of their sterilization. As a result, many of the poorer women, largely black Puerto Ricans, were sterilized while richer, lighter-skinned Puerto Rican women were able to avoid it."
While the days of compulsory sterilization in Puerto Rico have passed, Rivera says it is still difficult for many women to access contraception and other sexual health services as well as accurate information regarding sexual health. The Alternative Break, which Rivera will co-lead with Cristina Khan, SPA '13, another student active with CDI, will allow students to learn about the history of this problem and experience its manifestations in modern-day Puerto Rico.
"We're going to visit organizations in Puerto Rico that are actively working to give women access to complete and accurate information so they can make informed medical and reproductive decisions," says Rivera. "We want participants to see both the problem and what is already being done to solve it."
Rivera is also working with the Student Activities office to create an AU chapter of Gamma Rho Lambda, a national sorority for individuals who identify as queer women. "Many of the individuals GRL is designed to serve are those who are traditionally left out of Greek life," says Rivera. "We want to create a community that is supportive and inclusive of anyone who wants to participate."
After finishing her undergraduate degree this year, Rivera hopes to enroll in AU's MA program in sociology with a focus in race and gender studies before pursuing a doctoral program. She plans to teach at the university level and work in higher education administration.
"I want to take what I have learned and put it into practice that will help others," says Rivera. "It's easy to look at all of these ideas in purely theoretical terms, but when we can put them into practice and help students to embrace their identities and better understand themselves, it can make a big impact."