On Campus
Locker checkout available at the Bender Library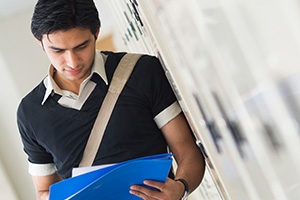 Semester use lockers are available for checkout from the Borrowing Desk on the First Floor of Bender Library. They are available on a first-come, first-served basis.
The lockers are available free of charge to currently registered students with an AU ID card or valid government issued photo ID. Locker keys will be due on Tuesday, December 16 (the day after the last day of finals). Requests for specific locker locations will be accommodated as availability allows.
Lockers vary in size, with many able to accommodate a bag or backpack. Students can use lockers to store personal items or items for class. However, students are asked not to store food in the lockers, as this attracts pests that may be damaging to the Library's collection. Students are asked not to put any additional locks onto the lockers. Unauthorized locks will be removed by University staff.
Day-use lockers are also available on a first-come, first-served basis throughout the semester for students who do not need a semester-use locker. Day-use lockers can be checked out from the Borrowing Desk except for day-use lockers located in the Graduate Research Center, which are available for check out by graduate students from the GRC Desk.
For more information on locker terms and conditions, drop by the Circulation Desk or contact us at 202-885-3221 or circulation@american.edu.