Environment
AU's Residence Halls "Do It in the Dark" to Save Energy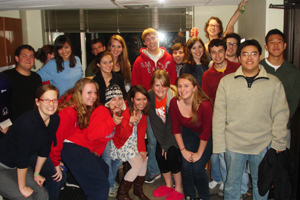 Throughout November, AU's residence halls competed in an electricity reduction competition dubbed "Do It in the Dark." The competition, hosted by the Office of Sustainability in partnership with the Alliance to Save Energy, featured both an internal competition among the residence halls at AU and an intra-city competition between AU and George Washington and Howard Universities. Each residence hall competed against its own electricity consumption in November 2010. During the course of the month, AU's residents saved 20,323 kilowatt hours of electricity and $2,427 – the equivalent of keeping almost 31,000 pounds of CO2 out of the atmosphere, saving 1,564 gallons of gasoline, or planting 358 trees over 10 years.*
Each of AU's twelve residence halls, on both main and Tenley campuses, undertook an array of energy-saving strategies throughout the month. More than 700 students – more than 1 in 5 campus residents – took the Pledge to Conserve Energy, which recommended energy-saving measures such as unplugging appliances when not in use, turning off the lights when not needed, turning down temperature settings in mini fridges, taking the stairs instead of the elevator, and turning the heat in their rooms to "low." All who took the pledge were entered into a raffle to win 1 of 10 solar battery chargers.
The Office of Sustainability's Green Eagle ecoreps hosted a variety of events to promote additional energy savings, including making hot chocolate for students who turned off all their lights, manning stations where energy-saving settings could be adjusted on personal laptops, and exchanging more than 50 incandescent light-bulbs for highly efficient compact fluorescent (CFL) bulbs. Student club Eco-Sense joined in by hosting a game of late-night Capture the Flag on the quad, an event requiring no electricity.
At the end of the month, Roper Hall emerged victorious with a 35.5 percent electricity reduction, narrowly beating Clark Hall's 35.2 percent reduction. As the winning hall, residents of Roper enjoyed a dessert party before the start of final exams. Thank you to everyone who participated to help AU conserve! To view the complete final standings from AU, visit http://buildingdashboard.net/american and click the "Competitions" tab. Final results from GW and Howard will be announced at http://www.american.edu/sustainability when they are released.
*Data calculated with the EPA's Greenhouse Gas Equivalency Calculator: http://www.epa.gov/cleanenergy/energy-resources/calculator.html