Environment
It's 10 a.m., How Much Energy Is Being Used Right Now In Your Building?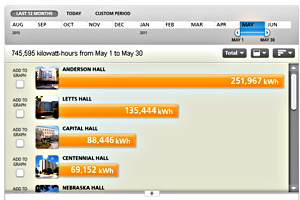 Have you ever wondered how much energy is consumed in the buildings around the American University campus? Which building on campus consumes the most energy? Which building consumes the least? Up-to-the-minute energy consumption information about all of AU's 12 residence halls and 19 academic buildings now is available on AU's real-time energy dashboard.
The dashboard allows anyone – from anywhere – to view the energy usage of any of the 31 buildings over the course of hours, days, weeks, or months. To make meaningful comparisons of energy usage between the different buildings, users can specify readings per square foot or per person.
The meters that provide the dashboard's information were installed in the buildings last fall in anticipation of AU's participation in the Campus Conservation Nationals, the first-ever nationwide energy-saving competition. With the aid of the meters and the energy-saving efforts of faculty, staff, and students, AU reduced its overall energy consumption by eight percent during the competition period, eventually placing seventh, nationally.
"Energy waste is invisible, which makes conservation particularly difficult. We hope that the real-time energy information can make energy use more tangible and remind people that electricity use, costs, and emissions are directly related to their day-to-day behaviors and how they choose to live and work in their buildings" said Chris O'Brien, Director of Sustainability.
To better utilize the meters and provide even more meaningful information, plans are under way to link AU's new solar electricity projects to the dashboard to allow comparisons between solar electricity production and overall building consumption. Energy consumption readings also will be displayed on the Four Wind screens throughout campus to serve as a graphic reminder to the campus community of current energy consumption and the importance of conservation.
For more information about the energy consumption dashboard, AU's conservation efforts, or the Campus Conservation Nationals, visit the Sustainability Web site or contact the Office of Sustainability at sustainability@american.edu.