AU Campus Connect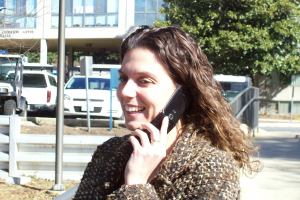 AU Campus Connect allows you to be connected wherever you are, on and off campus. The program features emergency alerts, help from Public Safety, reminders about events, and more... all from one convenient place... your cell phone!

Learn more about Rave Alerts, Rave Guardian, and Rave Groups in the information below.
Questions? Visit our Frequently Asked Questions or contact us at dps@american.edu.
To register, visit www.getrave.com.

Why is the Department of Public Safety Using AU Broadcast Alerts?
AU Broadcast Alerts is a quick, efficient way for American University to communicate with students, faculty, and staff when an incident occurs that must be brought to everyone's attention. Through use of e-mail and, more importantly, text messaging individuals registered for AU Broadcast Alerts will know instantly if there is something important the AU community should know. Whether there is a fire or a school closing, users will be notified without having to call a telephone number or check a web site, allowing for maximum communication. AU Broadcast Alerts is a part of the AU Campus Connect and RAVE Wireless partnership.
Signing Up
The RAVE Wireless web site allows you to use your AU login information to easily sign up for AU Broadcast Alerts.
To sign up: go to www.GetRave.com and enter in your AU login username and password.

On the next screen, if you are interested in purchasing a new phone through Sprint, click on the pink button. Otherwise, click on the blue URL under it stating: "Register for Alerts and limited Rave functionality on current phone."

Next, you will confirm that you are a member of the AU community by entering in your AU login username and password. 

On the next screen enter your First and Last name as well as your AU e-mail address. 

On the next screen you will receive a message confirming that you are a verified member. If you are not, please visit the FAQ page on the AU Campus Connect website (login first, then click the "Answer My Questions" link).

The next screen will ask you Click NEXT to agree to the RAVE Terms and Conditions. 
You are now registered for AU Broadcast Alert e-mails. In order to receive Text Alerts you need to enter a valid cell phone number.  
To do this:
Click on the ME tab on the top of the screen. It is the second tab from the left.

A red box directly under My Account will notify you to enter a valid cell phone number in order to fully utilize RAVE Wireless. If you wish to receive AU Broadcast Alerts text messages, click Enter Mobile Number Now.  

The first screen you see will ask for a valid 10-digit phone number. It should be entered in the following format: 2025555555.

On the next screen enter your cell phone carrier. Use the drop-down menu to select the carrier you use.

A text message confirmation code will be sent to your phone immediately. To finalize the process enter the confirmation code on the next page. 

Once you have entered the code the process is completed and you will now receive AU Broadcast Alerts on your phone!
Managing Your Account
After signing up you should immediately verify your contact information and how you would like notifications to reach you. Here's how.  
ME tab:
If you like, you can add additional cell phone numbers, land line numbers, and e-mail addresses to your account.  You can also add a picture for your profile or update your status.
RAVE MAIL tab:
Where you can receive mail from other members and RAVE Wireless directly on your account page.   
RAVE GUARDIAN
Rave Guardian is a tool for members of the AU Community to have Public Safety keep you safe. It gives you the ability to tell Public Safety when you are walking from one place to another and for how long by utilizing a timer and a voice message to let Public Safety know when and where to find you. It's simple to use! Here's how.
Signing Up
If you are not already a member of www.getrave.com, please click on the link to register.
If you are already a member, here's how to add Guardian:
Click on the Phone Apps tab at the top of your home page.
Click on the View All Phone Apps link on the left side of the screen.
Scroll down the page and click on the Rave Guardian link.
On this page you will be asked to register your phone number for the program.
After you are fully registered, go to the left side of the screen and click on the blue "Update My Profile" button.
On the profile page, add an accurate picture and fill in identifying information about yourself. Also enter your pin number here. Make sure it is a 4-digit number you will be able to remember.
Done! You can now use Rave Guardian.
General Guardian FAQ
Q: How do I activate Guardian?
A: Guardian is activated by calling 866.755.9569 when you are ready to activate the timer. The system will ask you to set the amount of time that you want for your travel as well as your pin number. It will then give you the option to leave a message stating where you are walking from and to. You can also give any other information that you believe would be useful to finding you. When there are two minutes left on the timer, the system will send you a reminder to deactivate the timer when you safely arrive at your destination by entering your pin number as a confirmation. If you do not deactivate the timer, and alarm will go off at Public Safety and an officer will immediately come find you.
Q: Do I have to have Sprint to use the program?
A: No. The Guardian program works with all cell-phone carriers, including the profile feature, additional information, and voice mail features. The only feature that is limited to Sprint customers currently is GPS. However, Rave is working to partner with two additional phone carriers to make GPS available to nearly 70% of our users!
Q: Will Public Safety always know my location?
A: Absolutely not. The location of any user is only available when the user grants us access to it. Once an incident is over, the user's location is no longer visible to anyone at Public Safety. GPS is used to find you in the event of an emergency and that is all.
Q: Is my Guardian profile the same as my Rave profile?
A: No. You enter separate information into your Guardian profile, including a new picture. Guardian pictures should be clear representations of how you usually look so that you are easily identifiable if an officer needs to locate you. Additionally, the Guardian profile will ask you to enter specific information about your body type, hair and eye color, etc. so that Public Safety has all the information it needs to identify you.
Q: How do I create/update my Guardian picture and profile?
A: To update your picture and profile, go to the Guardian section of the website and click on the blue "update my profile" button (phone apps tab > Rave Guardian (if you have not already added the program, it can be found under the View All Phone Apps link on the left side of the page) > Update My Profile.
Q: How do I use the panic feature?
A: To use the panic feature, program the panic call number (866.755.9719) as one of your speed dials. When pressed, Public Safety will know that you need immediate help. Public Safety will automatically see your profile information and picture. Your location will also be available to Public Safety if you have a GPS supporting carrier. When your information comes up, the department will contact you and come find you if necessary.
GROUP INFORMATION
MY GROUPS tab:
Where you can join groups that the AU community has created. To view your current groups click on the My Groups link on the upper left side of the screen.  To view all public groups at AU, click on the Site Groups link. Here you can view every public group created by an AU user, join the groups, and view membership.
Have a Group Idea?
Great! On the lower left hand side of the page click on the blue Create a Group button to make your very own group for your organization or just for fun.  
Why do I want to use a RAVE group as opposed to a Facebook group?
Good Question! The RAVE groups allow you to contact all members who allow it by text message. That way if an event is cancelled, there is breaking news, or you need to generally reach members in a hurry you can contact them via text and have a much greater chance of reaching them then by e-mail in a short period of time.   
How do I allow/not allow texts from a specific group?
Click on the Alerts tab, second from the right on the top of the screen. In this tab there is a list of all of the groups you are a member of. Here you can choose whether you receive alerts via text and e-mail for every group as well as general AU Broadcast Alerts. The automatic setting for all groups is for messages to be turned off for both text messaging and e-mail. Make sure you change your settings whenever you join a group if you want to receive alerts from the group!  If you encounter any problems click on the HELP tab for more how-to information as well as a detailed FAQ.
Previous AU Broadcast Alerts


| | | |
| --- | --- | --- |
| Date | Time       | Message Title |
| 10/25/2008 | 3:41 PM | Bomb Threat - Suspicious Device Located |
| 10/25/2008 | 5:00 PM | Remain Clear |
| 10/25/2008 | 6:21 PM | Suspicious Device Located |
| 10/25/2008 | 8:08 PM | All Clear |
| 1/28/2009 | 5:48 PM | Full closing AM |
| 3/2/2009 | 5:43 AM | Delayed Opening |
| 3/2/2009 | 5:52 AM | Weather Delay- March 2 |
Frequently Asked Questions
Q. What are AU Broadcast Alerts?
A. AU Broadcast Alerts are critical alerts sent out by the Department of Public Safety by e-mail and text message. 
Q. How do I register?
A. To register go to www.GetRave.com and use your AU login username and password to create an account. Once an account is created verify your cell phone number and confirm whether you wish to receive text messages and/or e-mails. It's that simple!
See above for more detailed instructions on how sign-up.
Q. How does the system work?
A. If there is an event which The Department of Public Safety believes should be broadcast to the AU Community, such as a delayed school opening or a critical or potentially dangerous situation a message will be sent out through both e-mail and text message.
Q. What types of messages won't I get?
A. Messages that have to do with social events, breaking news, or anything that is not critical information will never be sent out via AU Broadcast Alerts. However, if you join a group you may receive messages that are for these types of events. You join these groups willingly and there is no obligation to do so.
Q. How do AU Broadcast Alerts benefit AU students, faculty, and staff?
A. Students, faculty, and staff who are signed up for AU Broadcast Alerts will be informed immediately when a critical piece of information is released to the AU community. No worrying about calling a telephone number or checking a web site; the information will come directly to you!
Q. Will I receive a lot of text messages?
A. No. The AU Broadcast Alerts are only used when necessary. 
Q. What kinds of messages will I get?
A. Messages can vary greatly; use in past cases included delayed openings and notification of a suspicious package on campus that resulted in the evacuation of the Mary Graydon Center. 
Q. Is AU Broadcast Alerts used for anything else besides emergency alerts?
A. Good question! Yes, AU Broadcast Alerts can be used by groups on www.GetRave.com to communicate with members. However, you control your membership to these groups as well as how they are allowed to contact you. You can get as many or as little text alerts as you like.
Q. Where can I find out more?
A. If you would like to learn more about AU Broadcast Alerts you can visit www.GetRave.com. If you have any questions that are not answered here or on the RAVE Wireless web site, you can contact the Department of Public Safety at dps@american.edu.