Sustainability Success Story
50 Trees Added to Campus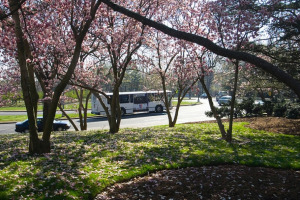 This year on Campus Beautification Day, AU added another 50 trees to the campus tree collection which brings the total number of trees to nearly 2500. It is no secret that Campus Beautification Day is scheduled right before Freshman Day. We all benefit from having the campus looking great for Freshman Day. From the comments received on the survey of folks that visited this year, it looks like we did a good job. Survey responses included:
"The campus is absolutely gorgeous!", "I think AU has a beautiful campus", "Positive feelings abound. The convenient parking, staff atti-tude, appearance of the campus are far superior to most. Very excited to attend."
In addition to making the campus look better, trees play an important role in preserving our environment. As we all scratch our heads and wonder how we can really meet the pledge of the Presidents Climate Commitment and become carbon neutral in the future, we know trees will play an important role in achieving this goal. Trees sequester or "lock up" carbon. The Casey Tree Foundation has developed a tree calculator that determines the benefits of a single tree. You can check it out for yourself on their website; please see the quick links on the top right hand side of this page. 
For example, a large Oak tree on the quad can reduce atmospheric carbon by as much as 950 pounds. By comparison, the average car driven 12,000 miles in a year will produce about 11,000 pounds of CO2.
As a first step in our quest to offset our carbon use, we recently conducted a tree inventory of all trees on campus. We are now working with Casey Trees to calculate the amount of carbon contained in our tree population on campus.
As mentioned in the Campus Beautification Day article, last month, American University was honored to be the first campus in Washington DC to be selected a member of the Tree Campus USA program. This nation wide program acknowledges colleges and university campuses that establish and sustain healthy community forests for the benefit of current and future generations.
To become a member, AU prepared an application that addressed the following 5 specific requirements:
Establish a Tree Advisory Committee whose membership includes students, faculty, staff and neighbors
Prepare a comprehensive Tree Care Plan
Submit annual tree care expenditures
Host an annual event to promote trees on your campus
Conduct service learning opportunities within your community.
Putting the application together was not as difficult as you might think since many of the requirements were things we were already doing.