Staff Success Story
AU Wins Five Communication Awards at a National Conference
Office of Information Technologies recognized for how-to guide, Web sites, newsletter, and annual report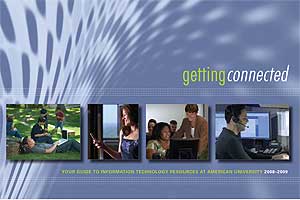 For the third time, American University won the Special Interest Group on University and College Computing Services (SIGUCCS) Communication Awards' Best of Category for our printed Getting Connected:  Your Guide to Information Technology Resources at American University, 2008-2009 Edition How-to guide.
The university also took second-place "Award of Excellence" honors in the following categories:
"Computing Services Public Web Site" for our Information Technology @ AU for New Students Web site;
"Computing Services Public Web Site" for the new Office of Information Technology Web site;
"Electronic Computing Newsletter" for the AU Information Technology Newsletter – Spring 2009 Edition; and
"General Service Promotional Materials" for the Office of Information Technology:  Year In Review 2007-2008 Annual Report.

Regarding the Award of Excellence for the Information Technology @ AU for New Students Web site, the SIGUCCS judge commented, "It's a very visually appealing site dedicated to the needs of new students, and seems to work well at presenting important information tailored for the needs of a unique campus audience. The rotating photo and stories feature is a nice touch."
The awards will be presented officially to American University at the ACM SIGUCCS Fall 2009 Conference next month in St. Louis, MO.  The conference showcases the award-winning publications developed at college and university computing centers.  It also provides an opportunity for attendees to review the model publications and helps them develop or enhance their own work.
SIGUCCS is an association of professionals who support and manage the diverse aspects of information technology services in higher education institutions.  They provide a forum for the professional development of individual members through conferences, publications, and other services.