Sustainability Success Story
American University places in the Top 10 in "America's Greenest Campus" contest
AU is "ninth greenest campus" based on number of registrants and CO2 emissions reduction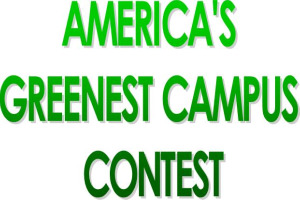 American University placed ninth in Climate Culture America's Greenest Campus 2009 contest.  The contest challenged universities to raise awareness by educating campus community members about global warming. The winners were the campus with the most members registered to track their greenhouse gas emissions and the campus that demonstrated the greatest emissions reductions. AU placed ninth for having 305 entrants, and reducing its CO2 emissions by 1.32 percent.   
Our neighbor, the University of Maryland, registered the highest number of users: 2257. And Rio Salado College, based in Tempe, Arizona, cut their contribution to climate change by an impressive 4.4 percent. But according Chris O'Brien, AU's Director of Sustainability noted, "AU's student population is less than one third that of UMD. They had 2257 members participate, compared to our 305. But we actually reduced more emissions than they did. That shows how active AU students are in the effort to cool the climate crisis. Eco-Sense and the Student Government, as well as the rest of the campus community, are all actively working to green the American dream. Next year, we're taking our sustainability action to the next level by publishing our carbon-neutrality and sustainability plans …then we'll set our sights on being the number one greenest campus."  
To achieve the University's long-term greening goals, a number of measures are already in progress to reduce our emissions, including: 
installing energy meters in buildings across campus to better track our electricity usage and find areas for improvement;
seeking a source of biodiesel from waste-vegetable oil to run the university's diesel vehicles;
evaluating an innovative "vertical axis" wind turbine for possible piloting on campus;
drafting a Green Building policy and a Sustainable Purchasing Policy; and
drafting a carbon-neutrality plan, expected to be completed by May 2010.  
Climate Culture is an online community of people from all walks of life who connect, compete, and collaborate in ways to accelerate the transition to a more sustainable future (refer to Quick Link).