Staff Success Story
AU's Senior Director of Enterprise Systems Receives Leadership Award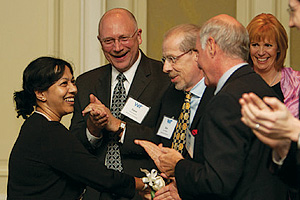 American University's Senior Director of Enterprise Systems Kamalika Sandell received the 2011 Leadership Award from Women in Technology (WIT) in the Education IT category. 
The award serves as recognition of Kamalika's work by the technology industry, and underscores her efforts to promote the university's strategic goal to encourage innovation and high performance. 
According to Executive Director of Communications & Marketing Terry Flannery, Kamalika's approach to technology as a tool for innovation has enabled the University to meet its most important goals.  "Look around at many of our most important initiatives, and you'll find that Kamalika had a hand in making it happen or making it work better, from AU Central to the Admissions Welcome Center to our redesigned Web site and portal.  It was only fitting that she was in the company of other nominees from various companies, the Smithsonian, and federal agencies. We are lucky to have her here at AU."
The Leadership Awards, now in its 12th year, honor women in the DC-area technology community who excel as mentors, leaders, and role models in their professional endeavors and communities.  Commenting on the significance of the award, Nanci Schimizzi, president of WIT, noted that, "Technology has changed our world dramatically. It is not only the engineers and scientists who are making an impact on technology, it is also the enablers of technology – healthcare providers, law enforcement, universities, government organizations, and more.  The women honored at this event are true architects of change in the technology community at local, national and global levels."
Women in Technology (WIT) is a not-for-profit organization whose goal is to advance women in technology by providing advocacy, leadership development, networking, mentoring, and technology education. With nearly 1,000 members in the Washington, DC area, WIT strives to empower women to be architects of change in the technology industry.
For more information, visit the Women in Technology Web site.