Sustainability Success Story
Battelle-Tompkins Garden Earns Landscape Design Merit Award
Journal praises garden's sustainable planting of perennials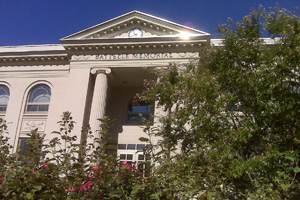 American University received a 2010 Landscape Design Merit Award for the design of the Battelle-Tompkins garden from the Perennial Plant Association Journal.

The journal cited the garden as "a demonstration of the use of a sustainable planting of perennials combined with shrubs, bulbs, and selected annuals.  The result is a rich tapestry of textures and colors that are enjoyed throughout the year."

According to Assistant Director, Facilities Management, Mark Feist, "We routinely mass plant perennials because they add vibrant color to the university grounds throughout the seasons.  To be recognized for our landscaping practices is gratifying.  It's also significant because American University is one of the few university sites that's been recognized by the Perennial Plant Association."

For more information about AU's arboretum and gardens and sustainable practices, be sure to visit their respective Web sites (see Quick Links).