Suggestion Box
What's your sustainability idea? Submit your feedback to the suggestion box and help green the American Dream.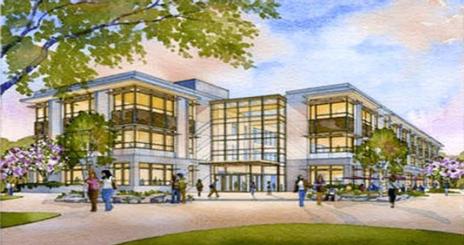 SIS Building
The new SIS Building earned the US Green Building Council's Leadership in Energy and Environmental Design (LEED) Gold Certification.
AU strives to reduce the environmental impact of our buildings while creating spaces that are conducive to living, working, and learning.
Green Building Systems
We use the U.S. Green Building Council's (USGBC) LEED certification system to earn ratings for our campus buildings. The new School of International Service (SIS) is registered with USGBC and is seeking LEED Gold certification, and thirty other campus buildings are seeking Silver certification or better. ENERGY STAR portfolio manager is being implemented to track and reduce energy usage in buildings across campus.
Green Cleaning
Many conventional cleaning chemicals contribute to health problems such as asthma and even cancer. Safer chemicals can improve indoor air quality, reduce sickness, and provide spaces more conducive to learning. Our green cleaning program:
minimizes the amount of dirt entering buildings by using entryway mats, thereby a

voiding overuse of cleaning chemicals;
trains staff on safe chemical handling and cleaning practices in order to avoid exposing them to chemicals; and
uses Green Seal-certified cleaners and equipment that are verified against a rigorous, nationally recognized standard for identifying greener cleaning supplies.
Indoor Air Quality
Clean indoor air is an important component of green building. In addition to our green cleaning program, which helps maintain clean indoor air, we use other products with reduced or no VOCs (volatile organic compounds), such as paint, furniture, and electronics.
Building the Green Dream

Assistant university architect Michael Purcell writes about the creative process behind the unique and sustainable features of the SIS Building in the Fall 2011 Journal of Green Building.