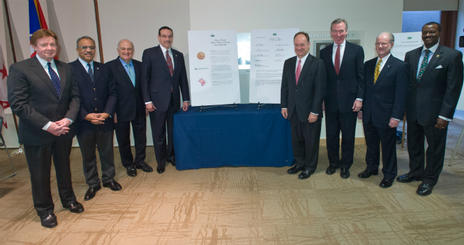 Mayor's CUSP
The Presidents of DC's Colleges and Universities & Mayor Vincent Gray signed the Mayor's College and University Sustainability Pledge (CUSP) at American University in February 2012.
Mayor's College and University Sustainability Pledge (CUSP)

What is the Mayor's CUSP?
The Mayor's CUSP is a voluntary, public affirmation between the District of Columbia's municipal government and the local Higher Education sector, including American University, to signify and support our collective work toward a better, healthier, and more environmentally sustainable Washington, DC.
What is AU pledging to do?
Under the CUSP, American University has committed to carrying out three key steps:
Phase 1: Sign the Pledge – DC's universities will publicly affirm their commitment to sustainability.
Phase 2: Develop a Plan – Within 1 year, select specific targets and create & publish a sustainability plan.
Phase 3: Implement & Share Progress – Report collective achievements in August, 2014.
The Pledge is designed to be meaningful yet flexible, aspirational in vision yet intended to produce tangible benefits for our local environment and our community. Toward these broad goals, American University will, over the next year, set our own targets for sustainability with a comprehensive sustainability plan, developed with input from stakeholder groups across campus. Areas of focus will include Energy & Buildings, Research & Innovation, Transportation, Purchasing, Green Education & Training, and Sustainability Outreach & Behavior Change, among others. For more information about the process of creating AU's sustainability plan, please see the Related Links section to the right side of the page.

Visionary Leadership
This unique approach to sustainability is the first of its kind in the nation. Its impact stems from both its collaborative nature and from its impetus for participants to set and work toward meaningful and measurable goals. Currently, no other U.S. city has formed such a compact between its entire higher education sector and its local government to advance sustainability.

The CUSP also reflects a deeply held commitment between the higher education community and the District to partner effectively to advance the increased possibilities for economic and social equity that can result from the new policies, practices, and projects that emerge through our mutual work to reach our environmental goals.

How will this work be carried out?

Signatories will designate staff to serve on a working group to be convened quarterly by the District Department of the Environment and the Consortium of Universities of the Washington, D.C. Metropolitan Area. The working group will provide opportunities for ongoing dialogue among signatories and the District government on the development and implementation of sustainability plans and progress toward commitments. The group will develop a framework to measure and communicate the cumulative positive impact that our work in sustainability is creating in the District of Columbia.

AU's Commitment

"Colleges and Universities have a responsibility to be community leaders, and by advancing sustainability American University is demonstrating our active commitment toward becoming a sustainable city. Sustainability isn't just a buzzword at AU—it's a culture and dedication to social responsibility as exemplified by our new LEED gold certified building for the nation's largest School of International Service, and being a 100 percent green power purchaser, both of which serve as important steps in our aggressive goal to be carbon neutral by 2020."
- AU President Neil Kerwin