Environment
AU Urges Congress To Get "Off The Bottle"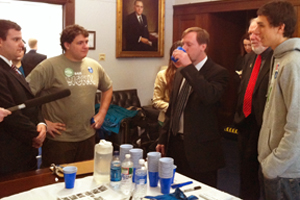 Recently, representatives from the Office of Sustainability and AU's Green Eagles, along with Corporate Accountability International, went to Capitol Hill to shed light on a report that shows that Congress spends almost a million dollars a year on bottled water.  Their visit also helped raise awareness to the benefits of consuming tap water instead of bottled.  

The Office of Sustainability's Chris O'Brien, Emily Curley, Josh Kaplan, Green Eagles Brighid Milan and Cole Mellino, and School of Public Affairs graduate Matt Handverger arranged a "Tap Water Challenge" taste test for the media event's attendees.  Volunteer taste testers, including Takoma Park, Maryland Mayor Bruce Williams, journalists, and other event-goers, were blindfolded and asked to sample four types of water – Dasani, Poland Springs, Aquafina, and tap water straight from the halls of Congress.  The participants then were asked to complete a survey to guess what brand of water they had sampled.  None of the testers could identify the samples correctly.     

"The point we demonstrated is that, through clever packaging and marketing, a vast portion of the public – Congress, included – is under the false impression that bottled water tastes better and is of better quality than tap," said Director of Sustainability Chris O'Brien.

In fact, in most cases, consuming tap water is better than bottled water for a number of reasons, including:  
Bottled water is unregulated and untested by the Food and Drug Administration. 
Bottled water is not required to adhere to any third-party standards for health and safety. 
DC tap water is monitored continually every 15 minutes for contamination.
70 percent of plastic water bottles sold in the U.S. are not recycled.
It requires about three gallons of water to bottle one gallon of water.
AU's representatives and Corporate Accountability International also delivered 60,000 signatures to Speaker of the House John Boehner's office petitioning Congress to reprioritize spending and support public water systems instead of costly bottled water.  The petition notes that, "Nearly half of bottled water (44 percent) comes from the same sources as our tap, and it costs up to 2,000 times the price."

"Society benefits from investing in safe, low-cost public water available to all, rather than building dependence on expensive, unregulated, wasteful bottled water drawn from public resources and resold for profit," said O'Brien.

To promote the use of tap instead of bottled water on AU's campus, last fall several water fountains were retrofitted with bottle fillers to allow students to refill their reusable water bottles more easily.  In the coming months, 100 more water fountains around campus will receive the retrofit.

For more information about AU's green efforts, visit the Office of Sustainability's Web site. To read a first person account of the event, visit the Office of Sustainability's blog for a post written by Josh Kaplan.