Environment
ECOlympics Challenges AU Students to Live Sustainably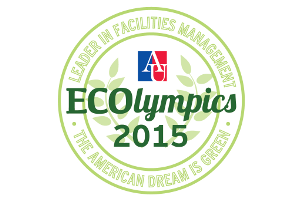 On March 16, The American University Office of Sustainability and Facilities Management kicked off ECOlympics, a three-week inter-residence hall competition that challenges students to reduce their waste and energy usage. 
Students are challenged to sign the ECOlympian pledge, committing to an action that will reduce their energy or consumption over the three-week period. Halls' energy reductions will be assessed using the building dashboard, and two waste audits will be conducted to evaluate waste diversion. Students can track their halls' performance at american.edu/ecolympics.
ECOlympics staff will host a number of events to promote the competition. The ECO Carnival will be held in the MGC Tavern on March 24. Students can sign the ECOlympian pledge, win prizes, participate in games and activities, and learn more about how they can reduce waste and energy use. Students also are invited to attend their floors' waste audits on Mar. 24 and 31 between 6 and 7:30 p.m. Earth Hour, on March 28, at 8:30 p.m., challenges individuals to turn off their lights and other electronics for one hour to promote energy conservation. 
Competition winners will be announced at the closing ceremony on April 6 in Kay Spiritual Life Center from 9 –10 p.m. The winning hall will receive a hall party valued at $300, while individuals who take the pledge will be entered into a raffle to win a $25 gift certificate to Chef Geoff's and other green products.

For more information, www.american.edu/ECOlympics.