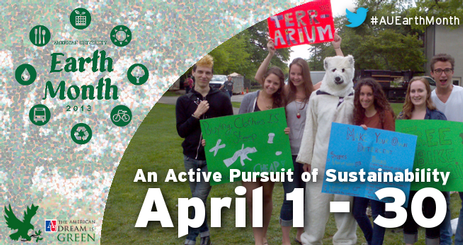 Earth Month 2013
Grab your friends and participate in Earth Month 2013.
Earth Month 2013 is the continuation of a tradition that brings the AU community together with a full schedule of events to celebrate our commitment to the principles of Earth Day. This year's events have been given the overarching theme "An Active Pursuit of Sustainability"- a testament to the hard work undertaken by AU students, faculty, staff, and alumni to make our campus and our communities better places every month of the year.
Please join us in our celebration. Below is a full schedule of events, and on the right sidebar are links to more Earth Month resources and a list of participating AU groups. On the right is a live feed of twitter activity using our #AUEarthMonth hashtag - join in the festivities on facebook and twitter and help bring our Active Pursuit of Sustainability to Eagles around the globe.
Participants
Recognizing the groups and individuals who make Earth Month possible.

Tweet
Tweet throughout the month with #AUEarthMonth to be part of the conversation.