Environment
New Peer Educators Programs to Launch Fall 2015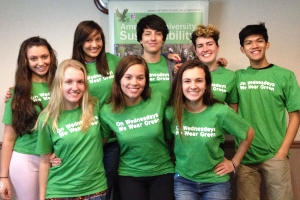 Beginning in the Fall 2015 semester, the Office of Sustainability will connect American University students to campus sustainability initiatives like never before. The new Student Sustainability Educators program will train six ambitious, passionate, and creative undergraduate students to become highly effective peer educators. The Educators will work throughout the year to bring increased awareness to AU's nearly 12,000 students about some of the big issues faced on AU's campus, as well as across the country and the globe. 
Connecting the Dots
From familiar topics such as zero waste to often arcane buzzwords like carbon neutrality, the Educators will build partnerships on campus and develop programming that will help all Eagles understand AU's deep commitments to sustainability. Their goal will be to help students understand the collective impact of simple actions, such as unplugging a laptop computer overnight, and its broad effects in other areas of interest such as the economy or social justice. The Educators will organize timely and exciting speakers, community service projects, informational displays, and other forms of engagement to leverage AU's incredible breadth of academic and professional knowledge, and ultimately make sustainability both interesting and fun.

A Green Foundation
The Student Sustainability Educators program builds on the success of the Green Eagles "eco-rep" program, a group of 20 students who have worked each year since 2010 to develop programming that inspires their peers to demonstrate more sustainable behaviors while on campus.

Apply Today
Are you a motivated, outgoing undergraduate student who wants to use your passion for sustainability to educate others? Apply to be a Student Sustainability Educator for the 2015-16 academic year. Applications will remain open until all six available positions are filled.