Tobacco- and Smoke-Free AU

AU is Proud to be Tobacco- and Smoke-Free
We're on our way to Zero Waste
American University is committed to strive for zero waste sent to landfill and incineration by 2020.
Throw away doesn't mean go away, so we're on our way to Zero Waste.
Personal E-Waste Drive
Date: April 22, 2014
Time: 8AM-12PM
Location: Quad
**RAIN DATE** April 23, 2014 | 8AM-12PM | QUAD

Acceptable Materials: 
We accept nearly all electronics of any age, working or not working.

• Computers and Laptops
• Servers and Mainframe Equipment
• UPS Systems
• Network Equipment: Routers, Switches, Hubs, Modems
• Telephone Equipment: PBX Phone Systems, VOIP Phones, Business Phones
• Printers, Typewriters, Fax Machines, Scanners
• New or Used Toner and Ink Cartridges
• Copiers and Printers over 50lbs ($25-$95 per unit depending on size)
• Peripherals: Mice, Keyboards, Wires, Power Strips, Network Cables, Connectors
• Power Supplies, AC Adapters
• Flat Panel Monitors, LCDs, LCD TVs, Plasma, LED, Flat Panel
• Audio Equipment: Amplifiers, Receivers, Speakers, Microphones, Stereo
Equipment, Boom Boxes, Turntables
• Video Equipment: Video Cameras
• Consumer Electronics: Ipods, Walkman, GPS, Digital Cameras
• Cellular Phones, Pagers, Iphones, Blackberry, etc
• VCRs, DVD Players, BlueRay Players, Cable Boxes, Tivo, DVR, Sat Receivers
• Test Equipment, Oscilloscopes, Spectrum Analyzers
• Laboratory Equipment, Industrial Machinery, Aircraft Equipment, Military
Equipment
• RF, Radio, and Ham Radio Parts
• Satellite Equipment, Dishes, BUCs, LNBs, Waveguides
• Microwave Radio equipment and antennas
• Batteries: NiCad, NiMH, Lithium Ion, Lead Acid (UPS Batteries) Laptop
Batteries, cell phone batteries, Car Batteries, Forklift Batteries
• Circuit Boards (any kind)
• Cables/Wire
• Metals: Steel, Aluminum, Copper, Iron, etc

NOT ACCEPTED: Appliances, Refrigerators, Microwaves, Liquids, Hazardous Materials, Vacuum Cleaners, Dehumidifiers
AU owned electronics? Please send an email to AUSurplus@american.edu

Student Move-Out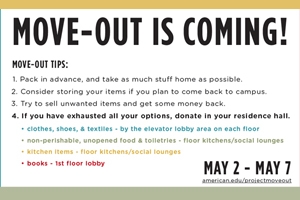 Move-Out is Coming!
Plan your move-out now! 
1. TAKE IT: Plan to pack and take your stuff home  
2. STORE IT: If you plan on returning to campus, consider storing your stuff until next year! Storing is a much more cost-effective solution than re-buying all your household items again at the beginning of the year. American University partners with the UPS Store for special summer storage rates. Check out www.austorage.com for more information.

3. SELL IT: Why not try to sell unwanted stuff and make some money?

a. There is a Facebook Open Group within American University called Free & For Sale. Consider exchanging as well. Please take common sense safety precautions online as you would offline.


b. Other online resources: www.craigslist.com, www.etsy.com, www.ebay.com, www.amazon.com 

c. Sell your books to the campus bookstore. The best option is to sell your books as soon as the semester ends - books get outdated and new versions of a book may drop the buyback price.

4. DONATE IT: If you have exhausted all the options above, AU provides options to donate in your residence halls.


a. Clothes, Shoes, Belts, Other Textiles (e.g. Towels, Blankets, Bedding, Linen, Pillows, Scarves, Socks, Hats, etc.)                                                            

   i. A container will be placed near elevators of each res hall floor marked Clothes, Shoes & Textile Donations. Items MUST be bagged.
                                          
     ii. NOT ACCEPTED: Jewelry and other non-textile items (e.g. sunglasses, headbands, etc.)

b. Food & Toiletries    
    i. Please be considerate and donate ONLY unopened, Non-Perishable Food Items or unopened toiletries. Boxes will be provided on each kitchen/lounge spaces of the residence halls. Food & Toiletries will be donated to Capitol Area Food Bank

c. Kitchen Items (e.g. Pots, Pans, Dishes, Cups, Utensils, Mugs, other serving/cooking related items)
i. Boxes labeled Kitchen Items will be located on each res hall kitchen/lounge areas. These items will be donated to A Wider Circle.    
ii. NOT ACCEPTED: Appliances 

d. Books                                    

  i. Collection boxes for books will be located on the 1st floor of Residence Hall Lobbies.
Campus Wide Organic Waste Collection
New zero waste containers at SIS
American University is proud to announce the launching of organic waste collection for composting campus wide! Organic waste is anything that was once living (and not currently recycled), e.g. leftover food, paper sandwich wrappers, greasy pizza boxes, and anything made from "compostable" or "biodegradable" material, such as plant-based cups and containers. This organic waste is currently mixed with trash and sent to landfill, but through separation we can further reduce our waste footprint. The separated organic waste will be sent to a composting facility off-campus to become compost, a nutrient rich soil amendment. This sorting of organic waste will require a small change in behavior, but will help us get much closer to our overall goal of zero waste to landfill and incineration. 
Organics and Container Replacement Status:
All Residence Halls are currently equipped with organic bins. This fall, we will be replacing the rest of the containers with the newly designed 40 gallon bins.
SIS installed - June 2013
Hurst installed - August 29, 2013
Cassell Hall installed - September 5, 2013
Nebraska Hall installed - September 10, 2013
Ward building installed - September 12, 2013
Child Development Center installed - September 19, 2013
Bender Library installed - September 27, 2013
East Quad Building installed - October 4, 2013
Mary Graydon Center installed - October 25, 2013
Clark Hall & Roper Hall installed - November 19, 2013
Centennial Hall & Letts Hall installed - December 18, 2013
Anderson Hall installed - December 19, 2013
Katzen Arts Center installed - December 20, 2013
Hughes Hall & McDowell Hall installed - January 7, 2014
Leonard Hall installed - January 8, 2014
McKinley installed - January 29, 2014
Bender Arena installed - February 7, 2014
Battelle-Tompkins installed - April 3, 2014
Kay -April 17, 2014
Kogod - April 30, 2014

Questions? Please contact helenlee@american.edu


To learn more about organic waste and composting, please click the related link on the side. For regular updates of our zero waste program, please like us on Facebook: www.facebook.com/ZeroWasteAU!
What AU is doing to eliminate waste
Campus-wide organic waste collection will be implemented in 2013. A pilot project with the Green Office (GO!) program will run from October through December 2012.
In 2010, AU adopted a Zero Waste Policy mandating the creation of a team to develop a plan for reducing and diverting 100% of the university's waste stream.
In spring 2012, AU placed 1st in the Grand Champion division of the national recycling competition, RecycleMania. Click the link on the side to see our results.
AU composts paper towel waste from all restrooms around campus. Green Eagles (student sustainability educators) audited the campus waste stream and discovered that by composting paper towels, we are diverting about 13 percent of AU's waste from landfill.
AU also composts all of the kitchen waste from the Terrace Dining Room, Tenley Cafe, and coffee grounds from the Davenport Lounge.
The university is reducing solid waste by replacing bottled water with inline water filters.
In fall 2009, AU eliminated trays in the Terrace Dining Hall, reducing food waste by an estimated 32 percent.
The university reuses and recycles surplus furniture by partnering with several area surplus and reuse centers.
In 2009, the university recycled 43 percent of the solid waste generated on campus by presorting cans, glass, paper, cardboard, plastic bags, batteries, cell phone batteries, cell phones, and fluorescent lights.
We collect and recycle vehicle waste including lubricants, antifreeze, oil filters, tires, and batteries.
University-owned electronics equipment can be recycled bysimply e-mailing AUSurplus@american.edu.
Personal electronics waste can be recycled at our quarterly e-waste recycling drives.
We collect kitchen grease and convert it to electricity and hot water using a Vegawatt generator system.