Over 100 water fountains around campus have been retrofitted with bottle filler spigots to make refilling reusable water bottles with some of the cleanest, tastiest tap water around a breeze.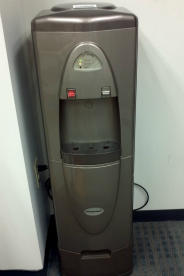 Inline water coolers have many advantages over jug water coolers, including elimination of jug delivery and storage, reduced bacterial levels, and cost savings. Many departments, units, and offices across campus have already switched to an inline cooler - reap the benefits and get more information about the inline coolers available at AU by clicking the link in the right sidebar or by sending an e-mail to sustainability@american.edu.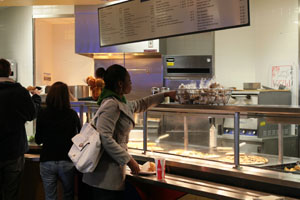 Photo by the Talon Yearbook.
In Fall 2009, AU eliminated trays in the Terrace Dining Room. A study done by Professor Kiho Kim and students projected the change to result in a 27% reduction in dish use and 32% reduction in food waste. This reduction, in addition to the elimination of trays themselves, decreased the number of dishes cleaned per semester by 174,000, avoiding all the water and chemicals needed for their cleaning, and avoiding 27,000 pounds of food waste that resulted from customers piling more food on their trays than they actually consume.

Rainwater Capture and Reuse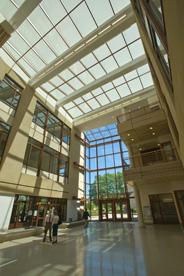 The SIS building (completed in 2010 and carrying a LEED Gold certification) collects approximately 66,000 gallons of rain water for use in fire suppression, toilets, and irrigation. The building also uses low-flow water faucet fixtures, dual flush toilets, waterless urinals, low-flow showers, and low-flow kitchen sinks.

Water Efficient Irrigation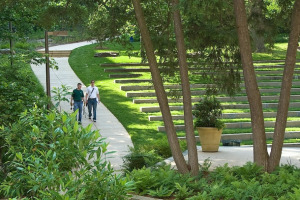 Our Rain Bird Maxicom Irrigation System uses information provided by weather stations on campus to optimize grounds watering based on the real water requirements of our landscape plants. The new SIS building is landscaped to entirely eliminate the need for irrigation.