Environment
Event Highlights Energy-efficient Transportation Options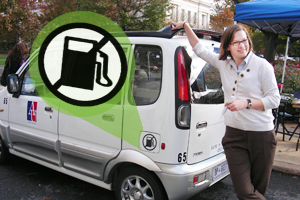 Recently, Facilities Management and the Office of Sustainability co-sponsored an event called "Celebrate the Ways You Move" as part of American University's continued commitment to sustainability. Representatives from Facilities Management, Office of Sustainability, Eco-Sense, and Housing and Dining shared how the AU community can make greater use of more energy-efficient means of transportation.
At the event, Shuttle Operations unveiled its new GPS-based tracking system for the red and blue AU shuttle routes. The tracking system is meant to encourage greater usage of the AU shuttle by making it easier for commuters to anticipate and plan for the arrival and departure of buses between the Tenleytown Metro, main campus, and Washington College of Law. To get real-time locations of shuttle buses, visit www.american.edu/shuttles, select the bus route of your choice, and click the link under "Where's the bus?"
"Being able to incorporate GPS technology to track up-to-the-minute shuttle bus locations throughout the day will be extremely helpful to our students, faculty, staff, and visitors – particularly during the cold winter months," opined Mark Feist, Assistant Director of Grounds, Vehicle Maintenance and Support Services.
AU's new commuter bike benefit also was introduced at the event. The benefit offers a monthly incentive of $20 to commuters whose bicycles are their primary mode of transportation to and from work. Commuters may use the voucher towards the purchase of bicycling gear and services at participating shops nationwide. The vouchers can be spent each month or accumulated for up to a year to help make larger bike-related purchases.
Joe Clapper, a bike commuter from the School of International Service, was enthusiastic about the new benefit, "Why not bike to work? You get exercise, fresh air, avoid traffic jams, and now, you get paid to do it too!"
For more details on how you can enroll in the commuter bike benefit program, view the bike benefit fact sheet.
Other sustainable transportation methods highlighted included the student bike lending program, Capital Bikeshare, Zipcar, Zimride, electric and biodiesel vehicles used on campus, Flex Fuel vehicles used by Public Safety, hybrid ARAMARK trucks, and the AU shuttle fleet.
Attendees also were asked to help name the new electric car, which will be used by Facilities staff who need to make frequent trips between the main campus and the Tenley campus. The person who offered the winning suggestion will be awarded a $50 gift card to Whole Foods. Be sure to vote for your favorite suggestion on the Sustainability Facebook page.
For more information about AU's green efforts, visit the Office of Sustainability Web site or e-mail sustainability@american.edu.
As the holidays approach, be sure to check out the AU shuttle holiday schedule.