Environment
AU's Green Eagles Tour Sidwell Friends' LEED Platinum School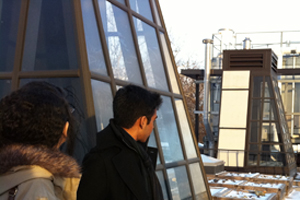 To explore green building outside the boundaries of campus, American University's 12-student Green Eagles took a field trip recently to Sidwell Friends for a tour of the school's green features which earned it a Leadership in Energy & Environmental Design (LEED) Platinum designation by the U.S. Green Building Council.  Sidwell Friends is the first K-12 school in the U.S. to have achieved a LEED Platinum rating – the highest rating possible.  

The Green Eagles were treated to a tour by two Sidwell 8th graders who showed off their school's constructed wetlands which recycles waste water on site; the building's creative use of recycled materials, including park benches and wine barrels that were used in construction; their solar photovoltaic system which generates electrical power by converting solar radiation into electricity and efficient lighting throughout the building; and their green roof and garden, and solar chimney that passively heats air before entering the HVAC system.  

The Green Eagles have offered to host students from Sidwell to share information about how AU implements sustainability on campus. "Connecting with our neighbors and sharing information within the community is vital to becoming a more sustainable campus and staying on the cutting edge of green building," said Chris O'Brien, Director of Sustainability.

AU has a Green Building Policy in which all construction, including new construction, major renovation, and major replacement/repair projects will be implemented to be equal to the U.S. Green Building Council's LEED Silver, or better. The SIS building is slated currently to receive LEED Gold and 30 other campus buildings are currently registered in a LEED "Volume" pilot program.  

American University's Green Eagles are students hired by the Office of Sustainability to serve as "eco-representatives" in each of their residence halls.  The Green Eagles promote AU's green initiatives among their fellow hall-mates and help with projects designed to improve sustainability on campus.  Their projects have included carrying out a residence hall waste audit and promoting the Campus Conservation Nationals competition.

For more information, visit the Green Eagles page.