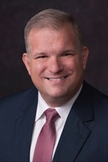 We are in the midst of unprecedented change and growth at American University. While the campus undergoes its greatest physical transformation in over a decade in order to provide the best facilities for our students, the university is also strengthening its investment in its faculty and rigorous academic curriculum. We continue to make strides in our philanthropic endeavors, ensuring the future of AU as a world-class institution.
Fiscal year 2011–12 has been one of our most successful to date, and our alumni, parents, and friends all play a part in building the future of this university. Thank you to all of you who have given your philanthropic support to guarantee AU's bright future. Thank you to all of you who make time to connect with American University—be it at an alumni event, in a volunteer capacity, or online—your personal investment is helping to build a better American University
Your gifts change lives every day, and we invite you to participate in the life of AU to see just how far beyond expectations your support will move us.
To learn more about getting involved and giving back, send me an email at vpminar@american.edu or call the Office of Development and Alumni Relations at 202-885-5900.
Thomas J. Minar
Vice President of Development and Alumni Relations