Achievements
Inspiration and Passion Highlighted at Celebration of Scholarships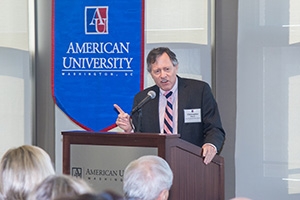 On March 18, 2015, nearly 200 students and donors celebrated philanthropy and the many accomplishments of American University students at the 18th Annual Celebration of Scholarships. Each year, the luncheon brings together donor-funded scholarship recipients and their donors to share in the joy of giving and the opportunity created through education. 
Chris Palmer, Distinguished Film Producer in Residence in the School of Communications and donor of the Mavis and Sidney John Palmer Scholarship, spoke to a the assembled students and donors, about why he was inspired to create a scholarship,
"My whole life I've overestimated my own achievements in comparison to what I owe to other people, and my parents are a prime example of this. It is only now that they are gone do I regret that I never properly thanked them for all the help they gave me. They taught me to strive to do my best, to not give up when I failed, and they often reminded me not to get too big for my britches."
With his wife Gail, Chris Palmer established the Mavis and Sidney John Palmer Scholarship to honor his parents and help inspire a new generation of environmental and wildlife filmmakers, just as his parents helped inspire him. 
The 2014-2015 recipients of the Mavis and Sidney John Palmer Scholarship are Vanina J. Harel, SOC/MFA '16, Marilyn L. Stone, SOC/MA '15, R. Jamey Warner, SOC/MFA '16, and Nick J. Zachar, SOC/MFA'16. Professor Palmer said,
"These four Scholarship recipients—Vanina, Marilyn, Jamey, and Nick—have realized something that when I was their age, I was too immature to realize, namely that success is the satisfaction of working passionately for a cause you care deeply about and which is bigger than you are."
The scholarship has indeed inspired these AU students to work hard, and as Jamey Warner explained to the crowd,
"I'd like to think that when I look back on my life, it would read like a book. Perhaps not a best seller, but certainly in the form of chapters. Going back to school here at American University to pursue the skills necessary to become a successful filmmaker and storyteller has been critical in my transition from reconnaissance platoon commander and intelligence officer to the next chapter of my life. You see I'm confident this chapter will be a fantastic one because as my mother taught me, I have identified a passion and worthy endeavor and will do whatever it takes to see to its success."
Through the generosity of Chris Palmer and the many other donors who choose to make scholarship gifts, hundreds of American University students are able to pursue their passions each year. 
Scholarship funds provide resources that help change the lives of AU students, making tuition assistance available based on both need and merit. The annual Celebration of Scholarships luncheon brings together recipients of donor-funded scholarships and their donors to express gratitude for their generosity.