Achievements
Honoring the Legacy of Dotty Lynch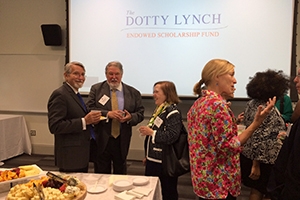 On May 20, 2015, colleagues, students, and family of Dotty Lynch gathered in the McKinley Building to celebrate and honor the professor's remarkable legacy at American University. 
Professor Lynch, a journalist and pollster who infused students with a love of politics and the political process, passed away in 2014. She left a great legacy of work in political communications and inspired many of her students. Lynch was a pioneer in her field as the first woman chief polltaker for a presidential campaign. She served two decades as the CBS News senior political editor and was a member of CBS News and New York Times polling consortium. 
In addition to her remarkable career accomplishments, one of Dotty's greatest joys was working with her students and exposing them to the political industry in Washington, DC. At American University, as executive in residence, she shepherded the development of the joint master of arts in political communication in the School of Communication and School of Public Affairs. 
At the May 20 gathering, a video honoring the life and accomplishments of Lynch was presented.
Molly O'Rourke, the current co-director of the Political Communication program, followed the video by saying,

"The power of that video is the students' tributes to Dotty and the role she played in shaping their career goals and really their lives. And that's what this event and this scholarship is all about—paying tribute to Dotty in a way that puts the focus very much on the students."
One of Lynch's former students, Rachel Coyle, SOC-SPA/MA '15, experienced first-hand Lynch's commitment to her students. During her remarks, she shared that Lynch not only helped to influence her decision to join the Political Communication program, but she also made it her personal mission to ensure that Rachel had the funding that she needed to pursue her degree at AU and professional ambitions. During her remarks, Rachel said,

"I think a scholarship is the perfect way to honor Dotty's memory. She worked so hard to secure funding for students who wouldn't have been able to attend AU otherwise. Now it's like she gets to continue doing that for years to come. I think that would have meant so much to her."
Lynch's husband, Morgan Downey, along with the gifts from family, friends, and colleagues established the Dotty Lynch Endowed Scholarship Fund to honor her memory and support AU students. At this week's reception celebrating Lynch, Morgan remarked,

"We have over $75,000 in the bank and over 85 individuals donated. I only had to ask people and this was such a natural expression."
This fall, the first scholarship will be awarded to an outstanding graduate student with financial need who exemplifies Lynch's passion for politics, journalism, and ethics, while embracing her commitment to excellence in the field. 
Thanks to the generous support from those who knew Lynch, her great impact on the field of political communications will continue to be felt far into the future as her students pursue their own careers, inspired by her passion and teaching. 
If you would like to make a gift to honor Professor Lynch's memory and support a deserving student, please visit: http://alumniassociation.american.edu/dottylynch.