Alumni
Grateful Alumni Endow Scholarship for Members of AU's College Republicans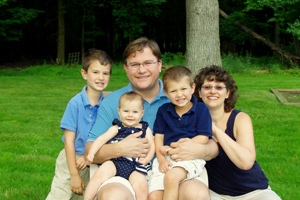 For Ira Jersey, SPA-SOC/BA '93, American University provided the foundation for his life's trajectory. He shares gratitude frequently for the opportunity to have forged a career that integrates every aspect of his formal education, and draws on his breadth of political experiences in D.C. and beyond. It was also at American where he met his wife of 16 years and mother of their three children, Hilary Zackroff-Jersey, CAS/BA '94, and established lasting friendships that have enhanced his career and life.

Ira and Hilary recently established the Ira F. Jersey College Republicans Endowed Scholarship, which will provide support to members of AU's College Republicans student organization. "After realizing fully American's impact on my passion for politics, I wanted to help others pursue opportunities that meant so much to me," he says. "I wanted to inspire them to become active in their communities, understand how a solid grasp of political systems can help them in any career, and realize that they can effect change…now, and throughout their entire lives."
The Republican National Committee, an advocate of College Republican chapters nationwide, was delighted to learn of the new scholarship. "We are thrilled that an alumnus would make such a generous contribution to American University in support of its College Republican chapter members. The next generation of Republican leaders is on our college campuses, and Mr. Jersey is a patriot for making sure students at AU have the same opportunity he had to learn about the Republican Party and experience politics in the nation's Capital," says Sean Spicer, RNC communications director. "The youth are a crucial part of what the RNC does every day."
As an AU freshman in 1989, Ira jumped into activities that would shape his future. He joined the College Republicans and worked at American's student-run television station, ATV. As a sophomore, he interned on Capitol Hill for Congressman Robert "Bob" McEwen (R-OH). His junior year, he served as press secretary of the CRs, and earned the distinction of "Most Effective Member" of the Student Confederation/Government. During his last year at American, he directed communications for the Student Confederation/Government, while interning for Congressman Rick Lazio (R-NY), and hosting/producing the ATV program "The Advocates."After graduating from American in 1993, Ira continued his studies in the UK, earning a Master of Arts in International Studies from the University of Birmingham in 1995. Later, he earned a Master of Arts in Economics en passant in 2004 from The New School, while establishing a career on Wall Street.

Ira attributes much of his success in finance to his time at American in D.C. "Understanding Washington," he says, "is a critical asset when synthesizing, predicting, and explaining market reactions, particularly for someone covering the U.S. financial system and the U.S. sovereign debt market." As a director in the US Interest Rate Strategy Group within Fixed Income Research at Credit Suisse, his expertise is tapped frequently by major media outlets including The Wall Street Journal, The New York Times, and CBS Evening News, and he is a regular guest on Bloomberg Television/Radio and CNBC.

While juggling work and family, Ira remains active with the Union County GOP and Sons of the American Revolution. He has also tested the waters as a political candidate with a run for the New Jersey State Assembly in 2001 and Hudson County Executive in 2002.

Ira and Hilary look forward to maintaining their connection to American in a new way. "For all that AU has given us," they say, "we are thankful to be able to give back by helping future generations."
The Ira F. Jersey College Republicans Endowed Scholarship will be administered by American University's Office of Campus Life, which oversees student organizations. It will be awarded for the first time in spring 2014.