Alumni
American University Announces Changes to President's Circle Recognition Levels
By Claire Taylor
February 9, 2012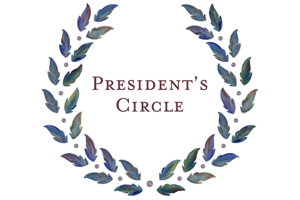 For the first time since 1986, American University is restructuring its President's Circle recognition levels. The new levels include an increase in the minimum President's Circle contribution level from $1,000 to $2,500 during the university's fiscal year (May 1 through April 30), and allow the university to direct more philanthropic dollars to the students, faculty, research, and academic programs that enable us to provide an unsurpassed, student-centered experience. President's Circle donors, members of American's leadership giving society, provide the generous philanthropic support that makes a lasting impact on American by anchoring our traditions of excellence for the next generations of Eagles.

The new recognition levels, which will take effect May 1, 2012, are as follows:


John F. Kennedy Associates: $2,500–$4,999
Herbert C. Hoover Associates: $5,000–$9,999
Theodore Roosevelt Associates: $10,000–$24,999
William McKinley Associates: $25,000–$49,999
Benjamin Harrison Associates: $50,000 and above

During this transition year, donors who give $1,000 or more between May 1, 2011 and April 30, 2012 will receive invitations to the October 2012 President's Circle dinner and recognition as President's Circle contributors in fall 2012 recognition materials. After May 1, 2012, donors whose annual personal contributions and matching gifts (received during the same fiscal year) total $2,500 or more will earn President's Circle membership. For loyal donors who continue to give annually between $1,000 and $2,499, we will be pleased to extend invitations to new recognition events that will begin in late spring 2012.

The new levels, which include Benjamin Harrison Associates recognition for donors who give $50,000 and above annually, will enable American to recognize more meaningfully the philanthropy of our most generous supporters.

We are grateful for all of our alumni and friends who give annually to the university, and work hard to demonstrate our appreciation for your support. Your generosity enables us to continue providing unsurpassed experiences to our students through world-class faculty, facilities, technology, and opportunities to change the world. Thank you for your continued involvement in the life of AU; your gifts help advance our standing as one of the world's leading educational institutions.