Alumni
Two SOC Professors Celebrate 20th Anniversary of Their Graduation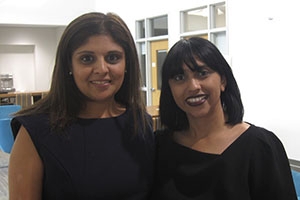 For these two professors, it's personal.

Pallavi Kumar, SOC/BA '94, SPA/BA '94, and Leena Jayaswal, SOC/BA '94, CAS/BA '94, are two inspiring professors in the School of Communication. Their passion for SOC students is clear because, for them, it is an emotional connection – they have walked in the students' shoes.

Celebrating their 20th anniversary of graduating from American University, Professors Kumar and Jayaswal have seen both the university and the School of Communication grow over the years.

The School of Communication, once part of the College of Arts and Sciences, formed its own school in 1993. Professor Kumar has so much pride in the fact that SOC has become "its own, bona fide, independent school with such a unique personality." Professor Jayaswal is continuously motivated and challenged by both her students and fellow faculty, and how much they are embracing the mantra that "media changes minds."

Professor Kumar is currently the division director of public communication in the School of Communication. "Being the head of the division, after having been a student here, it's personal," she says. "This school gave me my career, and I want to give students the same types of successes that I had."

As a first-generation college graduate, Professor Kumar attributes a lot of her success to the faculty who taught her as an AU student. Her career has spanned from Fleishman-Hillard to Ketchum, and she has successfully brought the importance of real-life skills into the classroom. She piloted a new class, Social Media Strategies and Tactics, in 2010, which has been become one of the most popular classes for both undergraduate and graduate students.

Associate Professor Jayaswal is director of the photography concentration. She taught her first class in the summer of 1995, and has been a professor at AU ever since. Her mentor and AU professor Ann Zelle saw something in Jayaswal while she was a teaching assistant, and encouraged her to pursue teaching as a career.

Although she may have fallen into the field of teaching, she has certainly fallen in love with it. "Knowing that I have an impact on my students truly makes my heart full," she says.

AU also allows her to continue being an artist. She recently finished a photography series called, "I'm Not the Nanny," interpreting mixed race families, a theme close to her heart.

While campus has changed since their graduation in 1994, the experience has only improved. They are both proud of the new McKinley Building, which, as Professor Kumar says, is "a showcase for the work that's being done here, by both the students and the faculty."