Greetings from Chip Griffin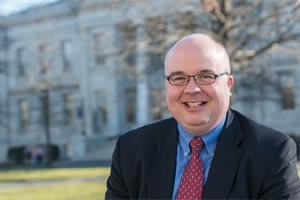 It's hard to believe that students will soon be returning to campus for the start of another academic year. Of course, that will being alumni back as well, as many of us volunteer to help with events like Move-In Days and Convocation.
Unfortunately, we have some sad news to share in this month's newsletter. Dotty Lynch, a pioneering woman in the field of political survey research who later became a journalist and a Professor in the School of Communication, passed away earlier this month. She was a powerful force on campus who helped introduce countless students to the field of public communication and will be missed.
On a more upbeat note, AU found itself named to the Princeton Review's seventh annual "Green Ratings" and in Sierra magazine's "Coolest Schools" list. It's always good to see our alma mater on lists like these.
We're also just two short months away from All-American Weekend. As usual, there will be a variety of events for Eagles and their families, with fun for all ages.
I look forward to seeing many of you back on campus for All-American Weekend and other activities this fall. If you can't make it all the way to Washington, D.C. from wherever you live now, be sure to check out the latest activities in your local chapter -- including the newest one in Austin, TX.
- Chip