Alumni
A Tradition of Pride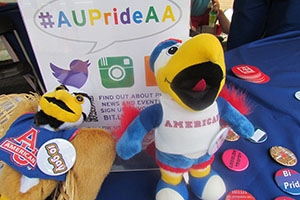 June is the month when we celebrate our AU Pride. You may know that American University is regularly rated as one of the most LGBTQ-friendly schools in the U.S. But did you know that the university and students have actively taken part in campus and nation-wide LGBTQ rights movements for more than 50 years?
In the 1960s, the Kay Spiritual Life Center hosted Franklin Kameny, president of the first major gay rights organizations, the Mattachine Society of Washington. American University students have also attended each and every major gay rights march in Washington, including in 1979, 1987 and 2000. Students formed the first on-campus gay rights group, the AU Gay Community, back in 1976. 
In 1991 AU's student senate became the first in the D.C. area to amend its nondiscrimination policy to include an Equal Opportunity Clause, protecting sexual orientation. More than 20 years ago, the first incarnation of the current Center for Diversity and Inclusion was formed and known as the Sexuality Minority Resource Center, which later became the GLBTA Resource Center.
With a rich history of university and student-led activism for LGBT rights, it is no surprise that AU is recognized for its commitment to all students and alumni.
Pride Month 2014 marks AU's third year at the Capital Pride Festival and the sixth time that Pride Eagles cheered on Washington's baseball team at the Night OUT with the Nationals, an event now in its 10th year. Along with these two great annual Pride events, the AU Pride Alumni Alliance also joined the DC Young Alumni Chapter to welcome the newest members of the alumni community this month.
As AU's LGBTQ and ally alumni community continues to grow, the Pride Alumni Alliance is looking for your feedback and suggestions. Fill out the Pride Alumni Alliance membership form to help continue to grow AU's proud legacy of, simply put, Pride.