Student Success Story
Southern Management Scholarship Enables Clarence W. Dasher, IV to Study Accounting at AU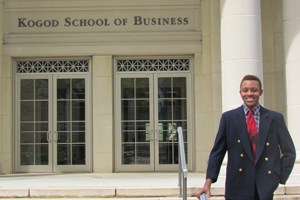 When Clarence W. Dasher, IV, KSB '12, graduated from high school, he dreamed of attending American University before his parents shocked him with the news that he was solely responsible for paying for college. To make college more affordable and prevent the accruing of student loans, Clarence attended Prince George's Community College (PGCC) on a full two-year scholarship. Clarence shone at PGCC, attaining membership into its distinguished Honors Academy and discovering a love for accounting while earning perfect grades. As Clarence explains, "My parents not paying for college ended up being a positive stimulus for me. I entered college very focused as I worked to transfer to AU, and I was able to maintain that focus throughout my education."

Clarence was elated when his dream of attending American University was realized with the help of the Southern Management Corporation Scholarship. In addition to providing much needed funding, the scholarship validated his decision to study accounting and gave him the confidence needed to succeed. He felt that: "The scholarship has brought me such peace of mind. In addition to the financial help, their support and belief in me is really meaningful. It makes such a difference to have someone who cares and wants me to reach my goals."

When it came time to transfer to AU, Clarence began to feel apprehensive about the switch. To ease his concerns, he attended summer events hosted by the Transfer Student Association, which helped him enter AU with friends and a support network. Clarence has excelled at AU by maintaining his stellar GPA, building a network of like-minded business contacts, and making life-long friends in classes, the business fraternity—Alpha Kappa Psi—and as a peer mentor to first-year students.

With graduation approaching, Clarence has already accepted a job as an Outsourcing Accountant at the highly ranked Accounting, Technology, and Consulting firm, RAFFA, where he plans to gain valuable on-the-job experience in his field. Clarence is also planning to enroll in a master's of science in accounting program to obtain the necessary knowledge and credits for the CPA exam. After spending time learning the intricacies of being an accountant, he intends to attend law school and pursue a career as an entertainment lawyer. His accounting knowledge will be invaluable in negotiating contracts and helping celebrities and other media figures run their businesses.

Clarence would not have been able to attend AU without the generous support of the Southern Management Corporation Scholarship. The scholarship was established by Suzanne Hillman, KSB '75, a former member of the American University Board of Trustees, and her husband, David Hillman, with funding from the Southern Management Corporation. The scholarship is awarded annually to a transfer student from Prince George's Community College who is entering the Kogod School of Business.