Student Success Story
Aiken and Bohn Wright Scholarships Enable Geoffrey Khaminwa to Study in U.S.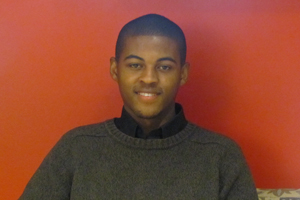 As a child growing up in Zimbabwe, Geoffrey Khaminwa, CAS '13, a native of Kenya, dreamed of studying in the U.S. Admiration for his father's provision of pro bono legal consulting helped him realize that he, too, wanted to build a career that would promote significant social and developmental changes in sub-Saharan Africa. Through his tenacity and the generosity of American University donors, Geoffrey is now a junior majoring in economics in the College of Arts and Sciences.

Two donor-funded scholarships are aiding Geoffrey on his journey: the Ernest M. Aiken Educational Scholarship and the Barbara Bohn Wright Memorial Scholarship. The two scholarships provide assistance with both tuition and text book costs, allowing him to pursue an unpaid marketing internship with the international journal, Fair Observer. Through this opportunity, Geoffrey gains valuable experience conducting research and crafting targeted messages to build investor partnerships. Additionally, he has followed in his father's footsteps by providing free SAT tutoring to students in southeast D.C., an experience that opened his eyes to the realities of different socioeconomic situations and reinforced his desire to help others.

Geoffrey credits the Aiken and Bohn Wright scholarships with enabling him to study in the U.S. and allowing him to make the most of his experience. For Geoffrey, D.C. has been the gateway to the rest of world and his future career in finance or developmental banking. After graduation, he intends to work abroad and deepen his understanding of international cultures before returning to Africa to establish a micro financing program that will foster aspiring entrepreneurs and assist communities with life-changing advancements.

The Aiken Scholarship was established by Herminia Aiken, in memory of her husband, Ernest M. Aiken. Aiken came to Washington in 1925 and established a real estate firm; three members of Aiken's family attended American University. The fund provides support to international students.         

Dr. Gary K. Wright, a former assistant vice president of Campus Life and an adjunct professorial lecturer at American University, established the Barbara Bohn Wright Memorial Scholarship in memory of his late wife, Barbara Bohn Wright. Committed to helping ease the transition students experience when coming to campus and increasing access to higher education, the scholarship has provided critical text book funding to students from Honduras, Korea, Mali, and the United States.